Audio feature: Reveley discusses the transition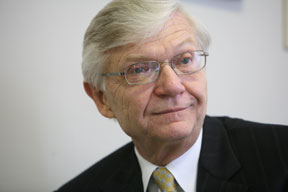 W. Taylor Reveley III, who recently was named the interim president of the College, talks about the transition (click titles to hear audio files).
Reveley recalled enjoying a rather placid morning at the Law School when he got the call from Rector Michael Powell on Tuesday morning.
Among Reveley's goals are to continue the College's emphases on diversity, civic engagement and internationalization.
Reveley discussed the pressing need to find the cash to fund the College's commitments.
Reveley identified three things that will be occupying his time: He wants (1) to meet with faculty, students and staff to listen and to talk move into the future without forgetting the past; (2) to help bring 2007-2008 to a successful conclusion; and (3) to help deal with pressing funding issues.
Whether growing up on the campus of a small college in Memphis, moving to Hampden-Sydney College or going to Princeton, Reveley said he has gained insights into liberal-arts universities.
Reveley understands that students are dealing with the process of expressing themselves but he also encourages them to focus on what is best for the future of the College.
Reveley acknowledged that faculty and staff members are experiencing a range of emotions.