Slevin gets Thomas Jefferson Award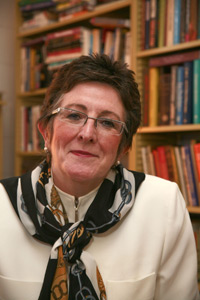 Kate Slevin, William and Mary's chancellor professor of sociology, has been named the recipient of the college's 2007 Thomas Jefferson Award.
The award is presented each year to a faculty member for significant service through his or her personal activities, influence and leadership. Slevin will be presented the award at the Charter Day ceremony here today.
"Her full-time job may be as faculty member, but her honors and commitment beyond teaching and scholarship have made and continue to make a substantial difference in the quality of this community and the educational experience it provides," wrote Sam Sadler, vice president for student affairs, in his nomination letter. "Beyond that is her spirit – quick witted, seemingly unflappable, decisive, intelligent, committed to social justice and full of fire and energy. Jefferson would have loved Kate Slevin. She richly deserves the award given in his honor."
Slevin began working at William and Mary in 1986 as the Associate Provost for Academic Affairs. She joined the sociology department in 1990 as an associate professor and director of its graduate program and, from 1997-2003, served as the department's chair.
Her research, which highlights age as a core site of social inequality, has received national praise. She has published several journal articles, book chapters and three books. Beyond her research pursuits, Slevin is a dedicated educator and a tireless advocate for women and minorities on the campus.
"I grew up as a minority in Northern Ireland, so I had a first-hand experience in what it was like to be considered 'less than,'" she said. "I'm very passionate about using whatever privilege and power I have to help those who don't have it."
She has been a supporter of the Women's Network (formerly the Women's Caucus) since her arrival at the College, twice serving as its co-coordinator. She also served on the President's Campus Committee on Diversity, led focus groups to identify problems minority students face on campus and served on the sub-committee that created the College's new diversity statement. Slevin helped set up the current freshman-sophomore advising program and served on various committees at the College.
"Big talkers are a dime a dozen on any college campus," wrote Jayne W. Barnard, Cutler Professor of Law, in his nomination letter. "But, talkers who are also do-ers, who actually shape the institution and its values are harder to find. Do-ers who are also good teachers and active scholars are very precious. Kate has excelled in all of these roles."
Her efforts have earned her numerous honors throughout her career, including the 2004 - 2005 Phi Beta Kappa Award for Excellence in Teaching, the Outstanding Women in Government Award, the Distinguished Educator Award and the State Council for Higher Education Outstanding Faculty Award in 2005.
Slevin received her undergraduate degree from University College in Dublin, Ireland. After earning her master's and Ph.D. degrees from the University of Georgia, she began her career in higher education in 1975 as an assistant professor at the University of Richmond. In 1981, she became the associate coordinator of SCHEV and served in that position until she began working at William and Mary in 1986.