Rec center renovation deemed 'green'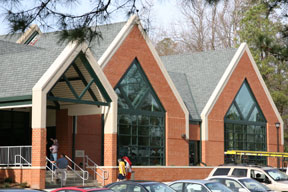 The College's recreation center, which reopened last fall after an extensive renovation and expansion, is the first building on campus to officially be recognized by the federal government for its environmentally friendly design.
William and Mary received certification for the remodel of its recreation center as a Leadership in Energy and Environmental Design (LEED) structure this month. The certification, granted by the U.S. Green Building Council (USGBC), recognizes "performance in five key areas of human and environmental health," according to the organization's Web site. These areas include water savings, energy efficiency, materials selection, indoor environmental quality and sustainable site development.
"If not the first, we are one of the few universities that have a LEED certified recreation facility that had a renovation as part of the project," said Linda Knight, director of recreational sports at the College. "We are very proud for William and Mary to be a leader in the field of recreation for building a "green facility."
The center received high marks from USGBC for its access to alternative transportation, the installation of a treatment system to filter out sediments from water runoff, use of water-efficient landscaping, reducing water usage through the installation of water-efficient plumbing fixtures and use of low-emitting adhesives, sealants, paint, carpet and composite wood materials. The project also was recognized for recycling 52 percent of the project construction waste and the fact that 24 percent of the material for the remodel by cost was manufactured within 500 miles of the site.
"The recreation center is a model of what it means to engage in environmentally responsible construction, and it establishes a new standard by which building projects will be judged in the future," said W. Samuel Sadler, vice president for student affairs. "Our buildings can teach us something vitally important. Hopefully everyone who sees or visits the recreation center will remember the care that was taken in this project to make the process, and the final product, a leader in environmental and energy design."
The renovated facility includes a 40,000-square-foot expansion. The new facility provides the campus and the community a recreation center with more than 10,000 square feet of cardio and weight space, a two-story rock climbing wall, juice bar, additional exercise rooms and a new multi-purpose court.
"We are very excited to receive the LEED Certification. The commitment of William and Mary, Moseley Architects and Whiting Turner Contracting to achieve the certification was outstanding," said Knight. "This facility is being funded by student fees and the fact that their money is going to an environmentally friendly facility is very exciting for them."