Race question marks Prices' Bearden book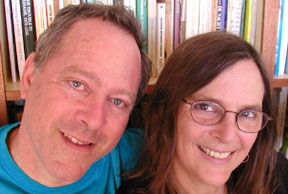 Romare Bearden (1911-1988), who was called America's greatest collagist after his death by a New York Times obituary writer, remains unacknowledged in the 34-volume, 32,600-page
Grove Dictionary of Art.
Puzzled by that perceived hint of racism, Sally and Richard Price, the Dittman professors of anthropology, American studies and history at the College, questioned two of Bearden's closest friends.
Nobel-prize winning poet Derek Walcott, having been told that other black artists, including Jacob Lawrence and Horace Pippin, were included in the art dictionary, responded bluntly, "Oh yes, Jacob Lawrence is fantastic … because he shows all these niggers tryin' to get to heaven, you know, material heaven. … And we understand the strain to get them there. … Horace Pippin is fantastic. Because he's a humble nigger who really couldn't paint very well, but he had that charm that is really a quality of the primitive. But Romare … ."
Acclaimed author and biographer Albert Murray's assessment was simpler: "Of course—because Pippin and Lawr' are black painters. But we're talking about Tiger Woods here," he said.
Color and energy from the Caribbean
The Prices relied on the recollections and insights of Murray and Walcott among their sources as they prepared the text for
Romare Bearden: The Caribbean Dimension
(University of Pennsylvania Press), a book that brings to publication more than 100 full-color plates of Bearden images created by the artist after he began his semi-annual five-month retreats to St. Martin. Although Bearden had achieved renown, including a major retrospective of his work at the prestigious Museum of Modern Art in New York City, before he built his home in St. Martin during the early 1970s, the Caribbean influence was integral to the artist's most productive years, the Prices' contend. It gave him a new appreciation of color and energy. Indeed, when he began creating art in the Caribbean, Bearden abandoned his signature oils and scissors in favor of watercolors as a response to the "luminosity" he encountered, according to the Prices. In the book, the Prices present Bearden's own explanation: "When you look outside here, you take out the brush and palette. … And it's watercolor country. It would be very different in painting down here for me than if I were in New York, where it would be more—I can't use the word solid. It would be a different kind of painting," Bearden said during a taped interview.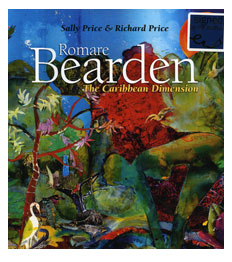 "His shift in color really was inspired by the Caribbean," Sally said. "At one point, Bearden said, 'Until coming here, I never understood how blue blue can be or how green green can be.'" In the book, the Prices use Bearden's own phrases as they summarize what Bearden saw during a typical morning: "For Bearden, the Caribbean was a kaleidoscope of colors dancing to the sounds of island life. The day begins in 'the fading darkness' before dawn, 'with the bravura cock-a-doodle-do of a rooster.' The view from his window is a landscape painting on a Japanese fan, the sea 'a deep blue … with white threads of surf' and the egrets 'a great patch of sea-island cotton.'"
In the Caribbean, Bearden's turn to watercolors introduced a new "fluidity" to his repertoire, one that complemented the mastery of structure and space that characterized his previous U.S. works. At first, his Caribbean works could be said to be those of a tourist. He created landscapes. Beginning in the 1980s, however, Bearden began engaging what the Prices refer to as "the social realities of the Caribbean," a process that opened him up to creating his "Obeah" series depicting the mystic rituals of the island and, later, his "Carnival' series. In dealing with both themes, the ability to blend the soft-watercolor pigments was instrumental in expressing the trancelike movements of the respective actors, the authors assert.
It did not take long for Bearden to begin synthesizing his Caribbean work with what he was producing in New York. In the United States, art critics were quick to pick up on the shift. Lowery Sims wrote in the mid-1970s, "Bearden's works began to take on a particularly lush quality. … Now Bearden's work was literally and visually awash with the turqoise blues and lapis tones of the Caribbean." Later, Sharon Patton suggested, "Around the early 1980s, pigments increasingly swell, flow uncontrollably, and seem to explode upon the surface" of Bearden's work depicting either Harlem jazz or Southern rural life.
Although Bearden repeatedly acknowledged the lure of the Caribbean palette, he maintained that there was much more about St. Martin that made it a source of creativity for him.
"Art will go where energy is," Bearden explained at one point. "I expect a convincing outpouring of creative energy from lands touched by the Caribbean Sea. An Obeah woman once told me she took in the moon before dawn and held it as a locket on her breast and then threw a rooster out in the sky who spun himself in the rising sun. That is energy."
Contributing to Bearden's legacy
The Prices have been familiar with Bearden and his U.S. works for many years. Indeed, posters and the catalogue from a Bearden exhibition at the Baltimore Museum of Art have been displayed in their home. Sally had used Bearden texts, including his
History of African-American Artists from 1792 to the Present
(1993), co-authored with his frind Harry Henderson, as teaching resources. As a professor at Johns Hopkins University during the 1970s, Richard Price said it was unusual not to see a Bearden poster in the dorm room of an African-American undergraduate.
"Even today, if you go into the African-American studies or black studies part of any large bookstore, a good many of the books have covers that are by Bearden because his works, perhaps more than those of any other artist, say 'black culture,'" Richard explained. Referring specifically to Bearden's images of New Orleans, Harlem and jazz, Price called such works "iconic of the 20th-century black experience."  
Neither Sally nor Richard, however, was aware of Bearden's Caribbean works until Richard needed a cover illustration for one of his books about Martinique's history and culture. They looked to the exhibition catalogue and noticed, in the index, references to Martinique in some of the titles. Intrigued that Bearden often visited the island where they live, they began the exploration that, eight years later, resulted in
Romare Bearden: The Caribbean Dimension
. The book, available both in French and in English, not only promises to complete the understanding of Bearden's artistic legacy but to contribute to an understanding of Bearden's personal legacy as well. That the book would end by dealing with questions of racism became, only in retrospect, inevitable.
"Bearden fought racism all his life," Richard said. "Our last chapter is about this. We point out that there is no entry in the 36-volume Grove Dictionary. We try to come to terms."
Toward that end, they take pains to point out that as a young man Bearden was offered a contract to play on a major league baseball team on the condition that he pass himself off as a white man, which the fair-skinned Bearden could have accomplished. Bearden turned down the opportunity. During the Civil Rights movement, they point out, Bearden generously donated time and money to support black artists while keeping specifically activist themes out of his art. "He said there are better ways to protest," Richard explained. "When asked why he didn't paint pictures of the horrible things that were happening, he said, 'That is not the place for art; you can see it every night on television.' He thought that art should be universal; should be there for all time."
Sally said, "Bearden wrote about racism; he was very aware of it. He wrote about it in terms of how much pressure there was on other African-American artists to be pigeonholed as 'black artists.'" While listening to a series of taped interviews with Bearden, they heard the artist respond to the question of his race by quoting Langston Hughes, saying, in effect, "People always ask me to be primitive. They ask me to be African. I'm not African. I'm Chicago. I'm Harlem. I'm Detroit. I'm Kansas City. I'm not African. I'm American."
In the end, the Prices took their Grove dictionary dilemma to Murray and Walcott. Murray not only compared Bearden to Tiger Woods but also to Michael Jordan. "You can't say Michael Jordan is a black basketball player, he is basketball," Murray explained.
"That was Bearden," Richard concluded. "In the same way as Jordan and Woods, Bearden ranked at the very top of what he did. He was a universalist. In the world of art, however, people still don't know what to do with that."
Find out more about the Prices and their work on the couple's Web site
.