New undergrad admission building serves as 'foyer' for the university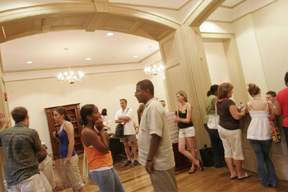 (Williamsburg, Va.) - Prospective students and their families are getting a fresh first look at the College of William and Mary campus through the doors of the new undergraduate admission building.
The undergraduate admission offices moved recently from Blow Memorial Hall on Richmond Road to a completely renovated space that used to be the former College bookstore on Jamestown Road near the Campus Center.
"We couldn't be prouder of the Admission Office's new home," said William and Mary president Gene R. Nichol. "This beautiful building will help us offer an even more impressive introduction to the campus and the William and Mary experience."
The renovated 17,000-square-foot building serves as the new starting point for the thousands of high-school students and their families who visit and tour the Williamsburg campus each year. For two consecutive years, the College has received a record number of applications from prospective students-last year William and Mary received more than 10,800 applications.
"The new building has improved our capability to make a strong first impression," said Henry Broaddus, dean of admission. "It's a great foyer for the College."
The bookstore moved from Jamestown Road to Merchants Square in 2001. Plans to relocate the admission offices have been under way for several years. The renovation project began last summer and was completed last month. The project cost $2.8 million and provides admission with an exciting new space to greet the next generation of students.
The new building is set up in three zones: an entrance and session area, a staging and office area and a downstairs with interview rooms and mail room. The lobby features a larger waiting area, brass fixtures, beautiful furniture, hardwood floors and large restrooms. The session room, where visitors receive an orientation to the College, is equipped with state-of-the-art audio and visual equipment, all controlled at the speaker's podium. It can sit 300 people, 100 more than the room that was used in Blow Hall. It also has two sets of double doors for easier access, and those doors open directly into an outdoor tour-guide staging area that faces the Historic Campus of the College. From this area, visitors will take their first steps onto the campus.
"Where this space is in relation to the main campus mirrors the psychological vision of the visitor," said Broaddus. "This is the 'big reveal' where visitors feel they are on the verge of the campus and maybe their future."
The admissions office welcomes more 25,000 people to William and Mary each year. Student tour guides conduct more than 1,000 tours each year.
Broaddus said the campus visit is critically important to prospective students. "Our own data shows that campus visitors convert to applicants far higher than any other contact source," said Broaddus, adding that national research shows that a campus tour is the single most important factor for students choosing a college.
In the new horseshoe-shaped staging and office area, assistant deans no longer must share offices as they did in Blow Hall.
Earl T. Granger, associate provost for enrollment, now has his office in a space where he remembers buying books as an undergraduate at the College. The building served as the College's bookstore for 35 years.
"Knowing what it once was, it's been really interesting to see how something can be transformed," he said.
Broaddus' office looks out onto the tour guide staging area, where he's been able to see new and potential students take their first steps onto campus. "I call this the window to the future," he said.
Two conference rooms offer comfortable locations to meet with families or staff. In the old building, admission personnel had to use the Board of Visitors conference rooms or rooms in Career Services-any place that was available. "We had to be nomadic," said Broaddus.
In the bottom floor of the building are six interview rooms and a student worker room that had no equivalent in the old building. Last year, the admissions office conducted more than 1,300 interviews of prospective students.
Though there is still a little work to be done inside the building, the admission staff is excited about the new facility and the way it will enable visitors to experience William and Mary.
"When we talk about being a '21st century university,' we want our facilities to reflect that," said Granger. "This will help move us in that direction and more in line with our peers. Students are more likely to apply after a visit, and this will definitely improve their overall experience."

For more information:
Erin Zagursky (757) 221-1020 or [[eazagu]].