Homecoming: A great sports weekend
Football squad vies for upset
Matt Lawrence rushed for three touchdowns in a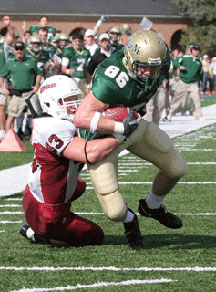 big second half for fourth-ranked Massachusetts as the Minutemen survived an upset bid by William and Mary with a wild 48-34 victory Saturday afternoon at Zable Stadium. 
Women's soccer makes weekend sweep
Junior Claire Zimmeck talied a pair of goals to lead the women's soccer team to a 3-0 triumph against Georgia State on Senior Night on Friday and then freshman Kaitlin O'Connor scored her first career goal to life the squad to a 1-0 victory at UNC-Wilmington. The team, which is 13-4-1 overall, is on a five-match winning streak.
Men's soccer completes perfect weekend
The men's soccer team wrapped up a perfect weekend with a 2-0 victory over UNC-Wilmington on Sunday afternoon as sophomore Price Thomas tallied his fourth game-winning goal of the season.
Volleyball squad rallies past Hofstra
The volleyball team rallied back from five points down in the fifth game to edge out Hofstra on Saturday. Junior Abbi Owens earned a double-double to lead the Tribe, totaling a team-high 17 kills and 16 digs.
For complete sports coverage, see www.tribeathletics.com.