Fujiyama honored with Monroe Prize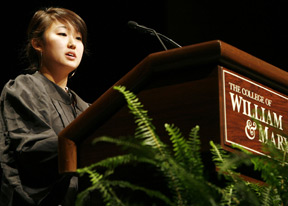 A William and Mary senior was recently recognized by the college for her service to disadvantaged youth in Honduras as well as her attempts to make a positive difference in the local area.
Cosmo Fujiyama was awarded the third annual James Monroe Prize in Civic Leadership here Feb. 10 as part of the Charter Day ceremony.
Established in 2005, the Monroe Prize is awarded to a student who has demonstrated sustained leadership of an unusual quality—leadership combined with initiative, character, and an unfailing commitment to leveraging the assets of the William and Mary community to address the needs of our society.
"To me, the Monroe Prize is a reflection of all those who stood before me and took courageous steps to improve the world we live in," said Fujiyama in her acceptance speech. "It is their intrepid moves that have inspired me to build my own bridge between the U.S. and Honduras to help orphaned children."
Fujiyama and her brother, Shin, started Students Helping Honduras, a non-profit organization aimed at providing various forms of assistance to orphaned children in Honduras.
They started the project in 2005 when Shin volunteered for a service-learning project at Copprome Orphanage in El Progresso, Honduras. Cosmo was in Nicaragua on another service trip at the time, but later met up with her brother to serve for a month at the orphanage.
Disturbed by the conditions of the orphanage and inspired by the children they met there, the siblings decided to raise support by bringing awareness to their campus communities. They ended up raising $150,000 with a Walkathon for Hope in April of 2006.
The Free Lance-Star, a Fredericksburg newspaper, featured the Fujiyama siblings in January as part of a series called "Help for Honduras." Reporter Rusty Dennen accompanied the pair on their most recent trip to the country.
"I was struck by how much they have done to change peoples' lives in a place were poverty and misery are the norm," said Dennen. "They were a powerful and poignant part of our series of stories. The college made a wise choice in honoring her efforts."
Fujiyama, an American and women's studies major, has also been active in the local community, to include serving as the co-chair of the Asian Student Council, working in the office of student volunteer services as a coordinator for the international service trips, serving as a president's aide for W&M President Gene Nichol, and working as part of the cast for the upcoming production of "The Ramayana."
"I believe that we have a responsibility to build bridges that connect communities together and link our common causes," said Fujiyama. "With each step we take and each part of the bridge we build, we move forth and create the world we envision. William and Mary has provided me with the tools to build many bridges that I will carry with me for the rest of my life."