Freshmen start their college experience with service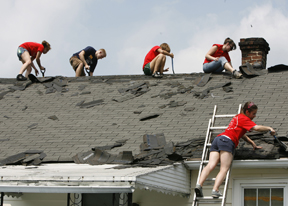 The roof swarmed with red T-shirts as the students ripped up six layers of shingles and pushed them flying to the ground. After a few hours of hard work, the house was well on its way to getting the new roof it so badly needed. And the William and Mary freshmen had made a few new friends.
"It's really hot, but it's fun," said Laura Tancredi as she tossed a handful of the shredded shingles into a dumpster.
Instead of toiling under the sun, Tancredi and her classmates could have spent the day fixing up their new dorm rooms, meeting Facebook friends in person or just relaxing before the start of classes.
But a new initiative challenged this year's incoming freshmen to do something more to start their College experience. The new students answered the call in droves.
About 200 William and Mary students, nearly 180 of whom were freshmen, volunteered with community agencies across the area on Tuesday as part of the first annual Students Helping Out Williamsburg (SHOW) Day. The day was sponsored by the Office of Student Volunteer Services (OSVS) and was conceived to provide new students an orientation to the service opportunities available in the community.
At a luncheon to kick off the event, William and Mary President Gene R. Nichol praised the students for their desire to serve in their very first week at the College.
"Students coming here know that they are going to be stretched. They know that much will be asked of them. They know that they will be pressed harder than they might be at some other institutions," Nichol said. "Yet you come and you indicate your desire to make a larger contribution, to press yourselves, to demand much of yourselves so that you can contribute much. That reflects the character of the William and Mary student body."
Drew Stelljes, director of the OSVS, presented students with information on what volunteer service at William and Mary is all about: accepting challenges and challenging assumptions, crossing borders and building bridges, listening intently and speaking boldly for the unheard, and standing at the end ready to embrace a new beginning. The points were written in a swirl of white letters on the backs of red T-shirts each of the volunteers received.
The new freshmen said they have been eager to get involved in the service opportunities at William and Mary. William and Mary has long been a leader in civic engagement and service. According to a 2006 survey, students at the College annually contribute more than 323,000 hours of community service. In addition, 75 percent of undergraduates reported that they had participated in volunteer work while at William and Mary.
"Something that I think was really clear when I applied here is that (service) is something important in the life of all the students, and so I thought I'd jump into it as soon as I got here," said freshman Justin DeBenedictis-Kessner, who worked on a roofing project with the Williamsburg Housing Partnerships non-profit organization. "I loved doing this sort of thing in my high school and so I really hope to have more of an opportunity to do it here."
Students participating in the day helped clean equipment at the Sarah Ives Gore Childcare Center, prepared materials for students and assisted teachers at Matthew Whaley Elementary School, worked on several houses in the community with Housing Partnerships, cleaned up around Williamsburg Library and worked with numerous other organizations, including the Community Action Agency, Colonial Williamsburg, FISH/Head Start, Williamsburg Landing, the Virginia Living Museum, the Rita Welsh Adult Literacy Program, ARC, the Child and Family Connection, Dominion Village and the Muscarelle Museum.
Besides introducing the freshmen to the service opportunities at William and Mary, it also served as a way for the still-new students to get to know some of their classmates.
"It's a good social opportunity to meet people who are like-minded," said freshman Cassie Adair, who helped clean toys and playground equipment at the Sarah Ives Gore Child Care Center.
Walker Somerville, a William and Mary junior and OSVS staff member, led the team of students helping out at the child care center. He used his time with the freshmen to introduce them to other service opportunities he's been involved in, including Students Helping Honduras. He said he thinks SHOW Day is a great way to get students informed and involved.
"This really gives freshmen an opportunity to see what the Office of Student Volunteer Services does and get a little more information than they would just walking through a big auditorium with a lot of tables," he said.
More than 400 freshmen expressed an interest in participating in SHOW Day, but only approximately half received assignments because the high level of student interest was not fully anticipated. The OSVS hopes to expand the new program next year so that even more students and community agencies can be involved.
But right now, the OSVS is excited to see how the new freshmen class will impact the campus and community.
"SHOW Day is a tangible example of the powerful impact of students and community leaders working together," said Stelljes. "I am so impressed with the high level of interest from the newest members of William and Mary. I fully expect their contributions to Williamsburg will be extraordinary."