First-generation students mark Class of 2011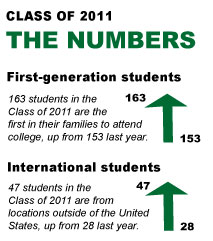 (Williamsburg, VA) – The College of William and Mary will welcome a class with more recorded international and first-generation students than ever before when the Class of 2011 arrives on campus at the end of this month.
"We can all take pride in this year's powerful incoming class--one of the most accomplished in the history of the College," said William and Mary President Gene R. Nichol. "And these remarkably credentialed young women and men include a record number of students who will become the first in their families to attend college. They are strong credit to their loved ones at home and to the Tribe they join in a few weeks. We look forward to welcoming them and all their fellows."
According to preliminary results, the incoming class includes 163 students who are the first in their families to attend college, up from 153 last year and the largest number that has ever been recorded at the College. This year's entering class also includes 47 international students, the highest number on record at the College and a 60 percent increase from last year's 28.
"The increase in both international and first-generation students speaks to the recognition of William and Mary as a place that is both open and global," said Earl T. Granger, associate provost for enrollment. "The educational experience is enriched by having varying perspectives represented on campus and we are very committed to ensuring that this trend continues."
The Class of 2011 is once again academically strong. For example, of the enrolled students who provided high school rank (49 percent), approximately 79 percent were in the top 10 percent of their high school classes. Additionally, the middle 50th percentile on the SAT for the class is 1270-1430, up slightly from the last two years.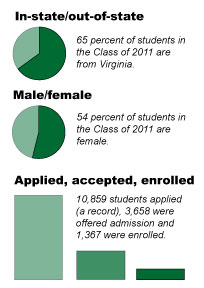 Like last year's incoming class, the Class of 2011 is also racially diverse. Twenty-three percent of the class is made up of students of color, including Asian or Pacific Islanders, African Americans, Hispanics and Native Americans.
The College's Office of Undergraduate Admissions received a record 10,859 applications this year. From those, 3658 potential students received admission letters, and approximately 1,367 have enrolled. Sixty-five percent of the incoming students are from Virginia. Female students will make up about 54 percent of the class. Twenty-nine percent of the class chose early decision.
The class is made up of students from a variety of backgrounds and with diverse interests. The new freshmen will include a real estate appraiser, a banjo player, a locomotive engine racer, an antique phonograph collector, a woman's lacrosse player who was featured in Sports Illustrated, a student who founded an organization that raised more than $40,000 for breast cancer research, and a female captain of a men's golf team.
"My colleagues on the admission committee and I are gratified to see such variety of talent and range of backgrounds among the members of this class," said Henry Broaddus, dean of admission. "They represent the best and brightest among their peer group, and we know they will accomplish wonderful things here in Williamsburg."