Alumni enjoy Homecoming 2007
Children sporting painted faces and wearing "Future W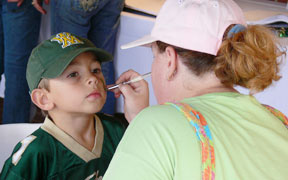 illiam and Mary Alumnus" buttons played outside of the Alumni House, stopping momentarily to watch as costumed characters Jack Sparrow, Spiderman and Cookie Monster danced with members of the pep band outside. In the nearby parking lot, cars and SUVs adorned in Tribe magnets and flags stood yawning open as feasts were prepared on plastic plates and card tables in front of them. Smoking grills sent their sweet aromas swirling through the crowd as the William and Mary Pep Band in green and yellow fuzzy wigs and striped shirts provided the morning's soundtrack. The crowd outside of Zable Stadium swirled in constant motion, as alumni from the last six decades embraced old friends and shouted greetings to faces they hadn't seen in years but will never forget.
Although rain caused the cancellation of the parade and children's carnival, the weather couldn't stop hundreds of William and Mary alumni and their families from enjoying tailgating, reunions, children's activities and other festivities Saturday as part of the College's 2007 homecoming weekend.
Butch Huber ('83) came from Indiana with his wife and four children for the weekend. Although this is his fourth William and Mary homecoming, it's the first time he's been able to bring his children, whose fall break happened to coincide with the weekend this year.
"We got in early Thursday morning, so we've suffered through the rain and toured around Williamsburg, and yesterday we went to Busch Gardens. The kids have not spent any time here, so we wanted to show them around Williamsburg," he said. "It's just a wonderful place to come visit. I enjoyed my time here and love the idea of sharing it with my family."
Huber said he appreciates that homecoming weekend provides him the opportunity to meet with old College friends, including his fraternity brothers from Lambda Chi Alpha.
"It's great to see people we haven't seen in years," he said.
Former classmates Katie Burgess ('06) and Amanda Rowe ('06) said they were best able to find old friends by just wandering through the areas where people were tailgating.
"I live in Baltimore which is a big city, so I like coming back and feeling that sense of community," said Burgess.
Sarah Stokes ('99), who now lives in North Carolina, had only been back to William and Mary once since she graduated. She said she planned on skipping the game Saturday and instead touring the town and campus and seeing how it's changed.
"I am looking forward to seeing the town and showing my sweetie around," she said.
The William and Mary campus is a place that the Wittkamp family knows well. Darrell Wittkamp ('55) her husband, Bernie ('52), and four of their five children all graduated from the College.
"I can't think of anything I don't like (about William and Mary). At the time (I went), I loved the classes and professors," she said. "When I went, there were about 2,000 students at William and Mary so it was a very personal experience. All the things now that are new don't seem new to me because I've come back every year and have seen it grown, and the landscaping is unbelievable. We come to the plays and seminars. We just think it's a great place."
She said that homecoming weekend is always a great time, and this year, it was extra special because it has been 55 years since her husband graduated and members of his class received a special private showing of the homecoming floats. Wittkamp said they are always impressed with how the weekend is planned.
"They just cover a lot of bases and make everybody feel at home," she said.
Anita Kardatzke of Maryville, Tenn., took a break from Saturday's activities to sit under a tree and read a book while husband Laurent ('60) "talked football" with some of his old teammates.
Laurent, or "Ski" as he was called, played football for William and Mary as a fullback and was co-captain of his team. After graduating, he went on to coach a college football team of his own in Tennessee. However, his coaching obligations kept Laurent from attending another William and Mary homecoming game until 1988. But now, he tries to make it back both for homecomings and for football reunions in June.
"They get together and tell football stories," said Anita. "Each year they're a little more dramatic and a little more extravagant, but I love it."
Laurent, who has always kept in touch with his William and Mary football buddies, said he is happy to be able to attend events like homecoming where he can meet up with them.
"Now that I can come back, I like to do that," he said. "You never know who you're going to see."
This was the 32nd homecoming in a row for Craig Dykstra ('80) of Centreville, Va. Dykstra, whose wife is also a 1980 William and Mary alum, plays baritone saxophone for the William and Mary Alumni Band and loves to perform at the homecoming games with his band mates each year.
"It's just tradition, and William and Mary is all about traditions," he said, before stepping onto the field to play with the pep band. "The tradition is that it's homecoming, so this is where we are."