Tennis duo earns national championship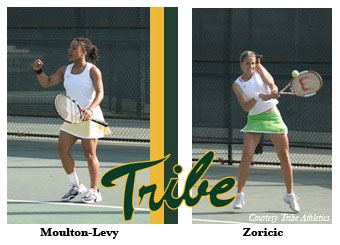 The Tribe duo of Megan Moulton-Levy and Katarina Zoricic rose to the top of the intercollegiate women's tennis world by winning the Intercollegiate Tennis Association's national indoor doubles championship in Columbus, Ohio, on Nov. 5. Having saved their best performance for the final match of the event, the Tribe women dominated their opponents, Ana Cetnick and Anna Sydorska of Texas Christian University, by a final score of 8-3.
"We were just in sync that day," explained Moulton-Levy. "We had a rusty start in the tournament, but the finals was the best match that we played."
In the semifinals, the pair outlasted a doubles squad from the University of Notre Dame 8-6.
Said their coach, Kevin Epley, "They knew they were going to win the tournament. That final match wasn't close. They dominated. They were a little nervous in the semifinals, but they really rose to the challenge in the final; they really wanted to make a statement."
The statement they made—the national championship—marked the high point of a five-year association between the two tennis players, who formerly were teamed at the Chris Evert Tennis Academy in Florida. It moved their overall mark at the College this year to 18-1, including seven wins over nationally ranked opponents.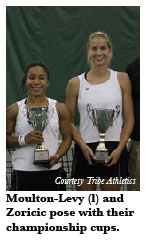 Moulton-Levy, a senior at the College, encouraged the Tribe to recruit Zoricic, a sophomore, based on that previous union. Working together on the court, the two "mentally wear down their opponents," Epley said.
"Kat's strengths are basically setting up Megan, who plays at the net," he said. "Kat can knock opponents off balance with her serve and with her return," strengths that complement Moulton-Levy's ability to volley at the net. "It's hard to get anything by Megan," he said. She is really quick; has a low center of gravity. She really pounces on balls."
Commenting on their success, Moulton-Levy said, "Kat and I both went into the tournament expecting to win, but there are factors that work for you and against you." About the team's strategy, she said, "I just try to put myself as close to the net as possible and as close to the middle of the court as possible. Of course, you need a good balance, a person who is a powerful server and who has solid ground strokes. Kat is that."
Zoricic said that she does try to get into the net during rallies, but she realizes that her job "is to try to set up Megan at the net. Megan's job is to volley away.
Both women credited Epley with playing an instrumental role in their ability to compete at such a high level. They referenced his knowledge of the game and his ability to provide emotional support.
"I can't say that I would have improved more with anybody else," Moulton-Levy said. "He has brought my game to a whole new level. He's a great person, a great leader. Just this week, he proved what a phenomenal person he was. It was an emotional battle this whole week, and he was there for me on the court and off the court."
Added Zoricic, "He has been nothing but supportive. He forces us to work hard. Even when we lost close matches, he kept believing in us."
Although both women arrived on campus with incredible tennis talent, Epley has helped them understand how to play together and maintain a consistent level of excellence. Said Zoricic, "Guy's tennis is easy. You serve at 500 miles an hour then put the volleys away. Women's tennis is more about positioning yourself as the ball moves to different places." About her coach, she said he has helped the pair keep their positive energy on the court, even when a match seemed to be going the wrong way. "In doubles, the score only goes up to eight, so you can only focus on playing the next point," she said. "If you get down at any point, momentum can change quickly. It's about maintaining focus."
An additional challenge the women faced by playing at William and Mary involved the academic rigor demanded by their classes. Both women chose to play at the College due to its dual reputation as having a storied tennis history with first-rate facilities and its being an elite academic institution.
"There are no academic breaks for athletes here," Zoricic said. "Being a student-athlete definitely means something at this school. At a lot of big athletic schools, athletes get a little break. Here, they're going to push you academically and athletically." She recounted numerous times when she returned from a tournament only to head straight to the library.
Moulton-Levy explained, "It really is difficult to balance academics and tennis, but you just do it. It's part of the whole package. The professors understand a little bit; they look forward to us coming back and giving them good results. If they weren't tennis fans, they have become fans."
The two tennis players will end their fall season by participating in an invitational tournament during the weekend beginning Nov. 10. After that, they will begin preparing to accomplish their next goal, that of winning the NCAA doubles title at the end of the spring season in May.
"Our short-term goal is to just improve day to day," Moulton-Levy said. "Our long-term goal now is to capture the NCAA title."
The indoor championship promises to help them in that quest. "It definitely has bolstered our confidence," Zoricic said. "Now, every time we step on the court, we trust things a little better."