Response to Ely's Israel on the Appomattox continues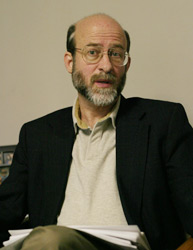 The incredible run of Melvin Patrick Ely's book Israel on the Appomattox, which began nearly a year and a half ago, continued this month as the American Historical Association (AHA) gave it the Albert J. Beveridge Award as the best book of 2004 on American history along with its Wesley-Logan Prize as the outstanding book dealing with the history of the African diaspora. Two juries cited Ely's work as a "beautifully crafted history" and as "meticulous and moving."
The dual recognitions, which are rare from the AHA, extended the overwhelming response to Israel on the Appomattox, which chronicles relationships between free blacks and whites on and around Israel Hill in Virginia's Prince Edward County during the years prior to the Civil War. Previously the book received the prestigious Bancroft Prize and the Library of Virginia Literary Award for Nonfiction, along with a dozen other citations. By many reckonings, Israel on the Appomattox stands as the most honored book in American history for 2004. It is a run that has kept Ely, the Newton Family Professor of History at the College, on the road.
Some of his stops have included grand banquets, glitzy trappings and first-class accommodations. He has appeared on nationally broadcast readio and television news programs to discuss the book. However, among Ely's favoritie appearances—more than 60 in all—are those that have taken him outside the traditional academic and book-club circles. Those talks, before local Rotary clubs, libraries and similar groups, may not "pay for the gas to get there," Ely joked, but for him, they provide what is a more valuable compensation.
Affirmations on the road
"I don't have any trouble finding people in southside Virginia who are ready to hear the story about blacks and whites doing things together," he said of the region, which is known to history as the state's bulwark of white supremacy. "There is this latent pool of interest that gets tapped, which can be thrilling." Specifically he recalled an event at which a white man with a heavy regional accent approached him after his talk and said, "I really want to thank you for opening a door onto our shared past as black and white people in this state."
"That's a good feeling, maybe the best feeling I've had, maybe better than winning the Bancroft," Ely said.
At such events, Ely sometimes finds the audience composed of black and white people in roughly equal numbers. Those who attend range from middle-school students to octogenarians. In Prince Edward County, he spoke at Farmville's civil rights museum, an institution that occupies the formerly segregated black high school building, which became a birthplace of the civil rights movement as the county closed its public schools for five years during the early 1960s to avoid integration.
"I got to stand in that space and speak to a thoroughly integrated, standing-room-only crowd," Ely said. "There were people sitting on the floor. It was so perfectly harmonious; in the discussion afterward they were not only talking to me, they were talking to each other. A black person said, 'My grandmother grew up on Israel Hill, and her name was such and such.' Then a white person got up and said, 'I knew your grandmother, and this is what we used to do together.' That really typifies the best kind of experience that I've had." Today, white and black citizens in Prince Edward are working to erect a historical marker at the site of Israel Hill. They have invited Ely to write the text.
---
'It was so perfectly harmonious, because in the discussion afterward they were not only talking to me, they were talking to each other.'
—Melvin Ely
---
Typically, Ely signs copies of his book after he speaks. One white woman in a small southside town, who identified herself as a textile laborer whose job had been exported offshore, discussed the book with Ely and asked him to sign her copy. "She did not buy it as an object for display but as something to be read," Ely remarked. "I had to wonder where she got the $35 to purchase the hardcover book, and I marveled that she chose to spend her scarce resources on it."
Other encounters have left their impressions. A heckler in the form of an elderly African-American gentleman wanted to make the point that the black experience under slavery and segregation was similar to the Jewish experience under the Nazis. "He compared Billy Graham to Adolf Hitler," Ely recalled. Allowing the speaker to have his hearing, Ely, whom reviewers have praised for his vivid depiction of slavery's horrors, remained respectful. "Finally I said, 'Sir, it is an exceedingly interesting argument, but I see that there is another question,'" Ely recalled. The professor pointed out, "To the best of my knowledge, Billy Graham had not killed anybody."
A more meaningful exchange took place in a Washington, D.C., bar. Ely, who was scheduled to appear via tape on the evening news broadcast of Black Entertainment Television (BET), discovered that his hotel did not subscribe to that network. He walked to a neighborhood bar that had half a dozen television screens, each one tuned to a basketball game. "I approached the bartender, a black fellow who was somewhat younger than I, and asked if he would be willing to tune one of the sets to BET," Ely recalled. "I don't think he gets a lot of requests from white guys to do that." After Ely explained that he had written a book about free African Americans in Virginia, the bartender literally took a step backward and asked, "You did what? I bought two copies of that book last fall and gave them to my family. My name is Randolph, and I wondered if we were descended from some of those people you wrote about."
Such responses are not limited to Virginia and its environs. In other places where Ely has spoken, including Seattle, Memphis and the Tampa Bay area, similar exchanges have occurred. In the near future, Ely is scheduled to give presentations in Chile and in Israel.
"You expect Virginians to be interested; you expect African Americans to be interested," he said. "But it's surprising how many people do not know there were African Americans in the South before the Civil War who were free, much less that some free blacks had long-term, fruitful relationships, including marriages, with white people. Once people discover that, they want to find out more. In Chile, I'm told, there's a lot of interest in multiculturalism. There's an interest in immigration, in people of different ethnicities and how they mesh. I think that is the universal interest, how societies do or do not reconcile differences."
Writing to be read
Ely sees his appearances before such groups as an extension of his work at William and Mary. "It's a teaching, learning, discussing process to the same degree that our life on this campus is about teaching, learning and discussing," he said. The fact that a positive reaction to his book has come from many quarters affirms the advice he presents to students in the College's Lyon Gardiner Tyler Department of History.
"I assume that everyone who writes does so in the hope of being read," he said. "For me, the trick always was to try to talk to academics and students, and also to the bartender or the displaced textile worker, in the same book." Although he has accomplished that with Israel on the Appomattox, he cannot share any formula that will enable it to happen. He is concerned, however, that many writers trained in academia are steered down a path that will preclude such an outcome. "Too often our graduate students think that what we, as professors, want is something that is very dense, very theoretical, which on every page self-consciously engages the existing scholarly research," he suggested. "If that is what you produce, you're never going to get a readership beyond a few hundred people. You may not even get an academic position out of it, because the irony is that job search committees, too, tend to gravitate toward writing that's interesting and readable."
For his part, Ely encourages young researchers to start with a topic that engages them and to pursue it with scholarly rigor but also with enthusiasm."My advice is not so much toward my peers," he said. "My peers can fend for themselves. I preach to my graduate students to pick something they are passionate about and to let their passion show."