Q&A with Ely: Current issues of race
For more than a year, Melvin Ely has been touring the region—and the nation—discussing his book, Israel on the Appomattox, which deals with the relationships between free blacks and their white neighbors prior to the Civil War. The discussion has contributed to his understanding of current issues of race. Following are some of his insights. —Ed.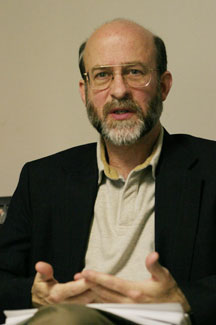 Q: In Israel on the Appomattox, you show whites who seemed to have feared and loathed free African Americans as an abstract mass yet who sometimes had cordial relationships with their own black neighbors. Does white American society still have this kind of "split personality" when it comes to race?
Ely: I think that this ambivalence, this divided white mind, has existed through much of our history, and that it definitely does now.
For example, the New York Times reported that, when the evacuation of New Orleans began after Hurricane Katrina, there was a run on gun stores in Baton Rouge on the part of whites who wanted to prepare for the "black onslaught" they feared. At the same time, we've read about countless acts of human kindness extended to individuals and families who were displaced by the hurricane, seemingly without regard to their race. I think in some ways we're still acting out attitudes that were already prevalent in the world I describe in Israel on the Appomattox.
Q: You depict whites and blacks in Old Virginia doing all sorts of things together—making business deals, joining forces to found found a Baptist church, moving west together, even settling down as husband and wife. Do readers and reviewers try to use the story you tell in Israel on the Appomattox as a guide to present-day affairs, or perhaps as a source of inspiration for our own times?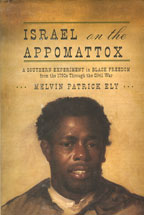 Ely:
Look at these headlines and quotations from newspaper and magazine reviews and from jacket blurbs:
A Portrait of Surprising Harmony (Los Angeles Times);
A Lesson in Hope (Denver Rocky Mountain News);
An Oasis of Freedom Amid Slavery (Boston Globe);
An Oasis of Racial Tolerance (Virginian Pilot);
A Pocket of Promised Land (Civil War Book Review);
A Taste of Liberty (Washington Post Book World);
"[A story of] hope, strength, endurance, and quiet courage . . . Important and uplifting" (Rocky Mountain News). "Explores as few others have done . . . and the role of faith and brotherly love" (Decatur Review). "Upends traditional assumptions about race in the Old South and, in so doing, poses striking possibilities for America's future" (historian James Oliver Horton). "A remarkable civics lesson" (Rocky Mountain News).
I see two things going on here. First, there's the "oasis in the desert" approach—a desire to proclaim Israel Hill unique. The way of life I describe, in which free blacks and whites could often get along smoothly and blacks could achieve remarkable things in a white supremacist system, was far from unique, as the work of other researchers is now proving. But if we say Israel Hill was unique, and that everyplace else in the Old South oppressed free African Americans in every possible way, then we're really congratulating ourselves for being so much more enlightened today. It is far easier to look down our noses at those terrible racists in the past than to clean up the mess we ourselves have made of the present.
Then there's the "hope for the future" attitude that many readers express. This approach is more optimistic than the "oasis in the desert." Some readers seem to be looking in our own time for a path toward a "kinder, gentler America," and they're heartened by a story that seems to show that maybe we can all "just get along," as Rodney King, the famous victim of a police beating in Los Angeles, famously put it. Israel on the Appomattox does suggest that blacks and whites aren't culturally hard-wired to hate each other.
Q: Up to the early 20th century, you find whites and blacks in Prince Edward County doing together just about everything we can imagine, up to and including interracial marriage. Yet Prince Edward is also the only county in the South which, during the civil rights years, actually abolished public schools for five years rather than desegregate. How could a place with such a history of relative good neighborliness do such a thing?
Ely: The 1850s and the 1950s in Prince Edward County had at least one thing in common: a strong, assertive African American community. Before the Civil War, free blacks on and off Israel Hill took on significant roles in business and the church, and they won the respect of many whites. A century later, in 1951, the students at Farmville's black high school showed remarkable initiative and courage: they went on strike demanding school facilities equal to those that whites enjoyed. Some of those students soon became plaintiffs in the famous Brown v. Board of Education case.
So you have a formidable black community in both eras—but Afro-Southerners in the 1950s were demanding things that free blacks before the Civil War, whatever their other achievements, could not hope to get: equality, desegregation and political empowerment. And when blacks made those demands, and the U.S. Supreme Court began to back them, the whites who dominated Prince Edward County "circled the wagons" and decided to fight to preserve the "Southern way of life."
To complicate matters further, in more recent times the reopened public schools in that county have reintegrated and become something of a model of good race relations and academic achievement. In Prince Edward County today, it's private, not public, education that's struggling.
When I speak in rural southside Virginia, I often attract large, biracial audiences of people who are all in pursuit of the same shared history; things are still changing there. The story of Israel Hill and its surroundings is really a story of race in American life that's still unfolding in 2006—and I'm fascinated to watch as my book itself, in a small way, becomes part of the current history of Prince Edward County and of Virginia.
It's striking how many reviewers want to pitch the little world I describe in
Israel on the Appomattox
either as an absolutely unique "oasis of harmony" amid a vast southern landscape of rampant oppression directed at free blacks, or as a beacon of "hope" for our future. People seem strikingly eager to tie a story of pre-Civil War America in to their own lives today.