Muscarelle exhibition to honor Cohen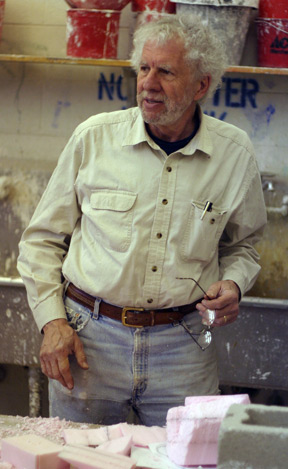 Related content:
One of Cohen's students savors her goodbye
Muscarelle website

Lewis Cohen, professor of art and art history at the College, began his interest in art at a young age. He copied master drawings for practice and soon started taking evening classes at the Minneapolis Institute of Arts. Later, after he gained national recognition in a high-school art competition and met Harold Tovish, a sculptor and professor at the University of Minnesota, Cohen realized he would pursue an art career in sculpture.

"Drawing was a natural way to define the world for me," Cohen explained, so it was a normal progression for the young artist to continue his study of drawing and sculpture at the School of the Museum of Fine Arts, Boston.

In 1962 Cohen received an art scholarship, the Prix de Rome, and worked in Rome and Paris. When he returned from Europe five years later, he headed to the West Coast and California State University, Long Beach. However, Cohen seemed to thrive more on the East Coast, so, when he heard of an opening at the College of William and Mary, he eagerly applied and was accepted. He has been teaching here for the last 19 years.

Cohen considers himself first an artist, then a teacher. He never had a desire to be only a sculptor. "When you're making a living as a sculptor, you have to be willing to do whatever comes your way, and I didn't want to be limited like that. Public commissions are typically too far removed from my own interests. I like to develop images from my own experiences and not be obligated to anyone else."

He also thinks of teaching as more than just a job. It has been a way to keep interest alive in his own work and to pass along his experience to younger generations, he said. "Teaching gives me the freedom to be involved more in my work, and I can bring that level of energy to the classroom. The students then benefit from having an active professor, and, in turn, they challenge and inspire me to be a better teacher. It is a give-and-take relationship." "I couldn't have been a teacher for more than 30 years if it had not been rewarding, but now I'm ready for a change. The time has come to devote all of my efforts to sculpture and to be able to fully focus on developing my ideas," Cohen added.

In a final send-off before Cohen begins the next chapter of his life, the Muscarelle Museum of Art will host a retrospective exhibition of his work. There is some precedent for the museum to exhibit retiring professors' work, so Cohen approached Ann Madonia, the curator of collections, about two years ago in preparation for his leaving. When the newly appointed museum director, Aaron De Groft, came aboard last year, plans for the show took off. What started as a relatively small exhibition quickly grew to a collection of more than 130 pieces, composed mostly of drawings as well as figurative sculptures. The decision also was made to produce a catalog of the exhibition.

"Aaron as well as the whole Muscarelle staff have been very supportive," Cohen acknowledged. "David Herald [the photographer] has also donated so much of his time to produce images of my work for the catalog."

Because this is the largest grouping of his work gathered in one place, Cohen said he is curious to see it all together in one venue.

The exhibition will be at the Muscarelle Museum of Art from April 8 to June 4, 2006, and will travel to the Art Gallery of the University of New Hampshire for display from October 28 to December 11, 2006.