Medical mission corps: Empowering a community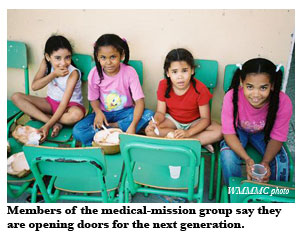 A Chinese proverb says, Give a man a fish and you feed him for a day. Teach a man to fish and you feed him for a lifetime. If you interview a man and his neighbors, however, you may find out they do not eat fish at all; they eat only venison. With that in mind, if you give them hunting gear and seek out community leaders to provide training and education, you might feed a community for generations.
That is the principle behind sustainable intervention, an idea that the William and Mary Medical Mission Corps (WMMMC) is using to provide medical care and community-based solutions to residents of the Dominican Republic.
"I really like the sustainable aspect of this trip," said Irène Mathieu, a junior at the College. "Rather than just going to a village and handing out Band-Aids and Tylenol for a month, we're actually making a difference in the community itself."
The WMMMC began in 2005 when a group of College students and an alumnus physician went to the Dominican Republic for a week to hold a medical clinic, where the group treated about 250 people in two villages.
One member of the group, Jason Starr ('06), came across the idea of sustainable intervention in a criminology class. He worked with David Aday, professor of sociology, to see how the principle could be applied to the medical mission, and a new readings course on community building and ethnography was born.
This year, the corps returned to the Dominican Republic with Aday, who took on the role of WMMMC director of academic affairs, and provided medical care to 730 people in Paraiso, a barrio outside of Villa Mella, but this time, the members of the team also engaged in field studies and interviews. They tried to identify problems in the community and possible long-term solutions that could be accomplished by identifying and empowering community leaders.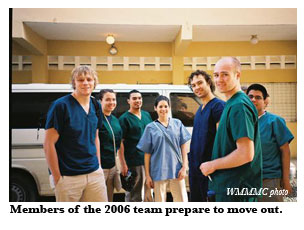 "What I saw in the Dominican Republic trip was the opportunity to take on a greater responsibility in the changes we are implementing in the community, realizing there's the potential to do more than just hand things out. I can really learn things at the same time by saying, What does the community know that I don't? and How can I help them implement that knowledge?" said senior Chris Lemon, this year's WMMMC director of undergraduate affairs.
The next trip is scheduled for Jan. 3-10, 2007. President Gene Nichol plans on joining the group of 13 students, Aday and three medical personnel at the end of the week to observe and help out. "The commitment of these students to helping others in a material and lasting way just takes your breath," Nichol said. "I'm grateful that they're allowing me, obviously the least well-trained and equipped with the poorest Spanish, to tag along. I'm more than looking forward to it."
The team will again host a medical clinic, but they also hope to take a student idea or two from the readings class and implement them. Because communities are complex and involve various groups with competing interests who compete for limited resources, every idea is weighed carefully, said Aday. Some things that the team might consider issues because of their cultural backgrounds and perceptions may not actually be issues for the community, he said. For instance, the team last year assumed that many of the illnesses being treated were a direct result of poor drinking water; however, when water was tested this summer, it was determined that was not exactly the case, said Aday.
In another example, the team noticed a problem with waste disposal during the last trip. Although ideas about how to help residents get rid of their trash were discussed, it was found out that there is a partial waste-removal system in place and there is a dump nearby. Before implementing any extra waste-removal plans, the team has to conduct further research to find out whether residents view waste removal as an issue and whether they are using the system already in place, Aday said.
"You have to encourage the community's ownership of a project to ensure its future success," he said. "When it comes to helping people, they have cultural knowledge and wisdom that we do not have. They may need resources, including specific information about how to solve problems."
The students going on this year's trip are excited about doing something to help, getting clinical experience, improving their Spanish skills and experiencing a new culture.
The expansion of their worldviews is something that will, they hope, benefit the world. "I think it's increasingly important to be exposed to other cultures," said freshman Mohammad Torabinejad.
Aday has been impressed with the students of the WMMMC, both with their willingness to learn about the social sciences and with their ability to deal with difficult issues.
"You see a combination of appreciation and desperation. Everyone was very appreciative of the fact that we were there, even if it was only in cases where they just went through the whole visit to get a toothbrush or multivitamins," said Lemon. "At the same time, there was a lot of desperation tied to the fact that there were way too many people there for us to handle at the time. We treated 730 people [this year], but we still had to turn many away."
When an especially sad moment occurred involving a little boy who was found to be in the last stages of AIDS, Aday said team members, though touched deeply, "never missed a beat" and continued working to see as many people as they could.
To support the trips, the WMMMC holds fund-raisers throughout the year to help pay for the travel and lodging costs and medical supplies. What money is not raised, the students pay for out of their own pockets.
MAP International, a nonprofit organization that provides low-cost medications for relief trips, has provided most of the prescription medications, and Girl Scout troops from the Washington, D.C., area provided many over-the-counter medications. The rest were bought with donated funds. Dr. Ramón López, director for the Americas for Physicians for Peace, serves as the liaison for the group and helped to establish the mission in a school facility.
Dr. Mark Ryan, the physician who helped to start the corps, has stayed on with the group as medical director and recruited a pulmonary care physician and a physician's assistant to assist with the 2006 trip and with the coming trip.
The group hopes to recruit more physicians to help supplement its core so that one day teams can go for longer periods of time and more often than once a year.
The ultimate goal of the WMMMC is to grow from a one-week clinic to a health-care treatment, education and prevention program—all owned and operated by the community.
"Basically, I just see my role as a facilitator," said Lemon. "They're the people who have the motivation and the know-how. We're just there to try to make things flow."