Jazz great inspires students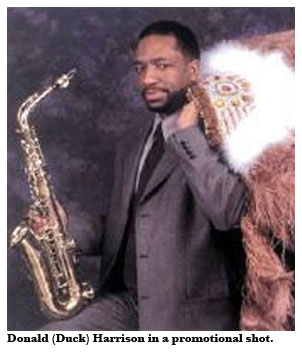 Donald "Duck" Harrison sweats the small stuff, but he does so for good reason. He knows that attention to detail formed the music of the jazz greats that taught him, and he knows that attention to detail will bring out the great in the students he teaches.
"To be the best you can be, you can't take any shortcuts. A person who is going to reach his full potential is a person who's not afraid to visit every nuance of something," he said.
Harrison, a world-renowned jazz saxophonist and composer, joined the music department as its Class of 1939 Artist in Residence for the fall 2006 semester. In that role, he teaches a course on improvisation and serves as a guest speaker in various music classes as well as in the black studies and American studies curricula.
"Everyone says he is just tremendous. He is so diversified in what he has done, from his performances to his life experience," said Evan Feldman, assistant professor of music, director of bands and department liaison for Harrison. "And as a performer, he's truly world-class."
Harrison also has performed around Williamsburg with some of the College's students and faculty, including regular performances with Harris Simon, director of jazz improvisation and instructor of jazz piano and harmonica.
"It was a real pleasure working with Donald Harrison," said Simon. "His friendly nature and enthusiasm, his willingness to open himself up and share his experiences as a professional jazz musician were an inspiration to me and my students."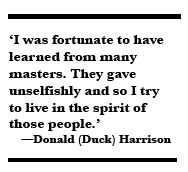 Harrison had worked with young musicians before while directing an educational program at Tipitina's in New Orleans. He even mentored the late rapper Christopher Wallace, more commonly known as Notorious B.I.G.
Harrison said he sees his position here as an opportunity to continue "spreading jazz music around the world. The students here have a thirst for what I talk about, and that's very refreshing."
His passion for teaching comes from a deep respect for the people who instructed him. Growing up in the music-saturated culture of New Orleans, Harrison began his jazz studies with Ellis Marsalis and attended Baton Rouge's Southern University for a year before attending Berklee College of Music in Boston. His career began when he joined Art Blakey's Jazz Messengers. Throughout his career, he has performed on and recorded hundreds of albums both as a leader and a sideman with his contemporaries and many jazz legends.
"Donald is the greatest alto saxophonist I've ever had the pleasure of working with, and as a human being, he's the tops," Eddie Palmieri, pianist, bandleader and eight-time Grammy winner, said in a blurb on the "Paradise Found" compact disk jacket.
"I was fortunate to have learned from many masters," said Harrison. "They gave unselfishly and so I try to live in the spirit of those people. I pass on knowledge the way it was taught to me. I learned from all the masters of jazz, so my method of teaching is to know every nuance of music, to teach the stuff that's boring but really matters and makes you great as opposed to skipping over everything. We skip over nothing."
And Harrison's students love it. "He has a laid-back teaching style, which is appropriate for jazz," sophomore Phil Hernandez said, "but he's very knowledgeable. He can put you on the spot, but that just makes you want to know more."
Hernandez, who wants to become a professor of jazz music, was not familiar with Harrison's work before taking the class. "I went to see a concert he had at the Williamsburg library and he just blew my mind," he said. "Now I take everything he says very seriously."
Harrison wants to teach his students more than music, however. He wants to teach them an appreciation for life that he learned from surviving Hurricane Katrina, in which he lost his home, irreplaceable photos and music.
"It helps you to realize how important life is, and it deepened my understanding of doing the most you can while you're here. It's only a short little visit," he said.
Harrison contributed a version of Louis Armstrong's "What a Wonderful World" to the "Our New Orleans" benefit album, and proceeds from his "Nouveau Swing" album go to victims of the hurricane.
Although Harrison spends his week here teaching, he is usually away on the weekends playing his music with one of three groups with which he performs. He also serves as "Big Chief" and unofficial spokesman of the Congo Nation Mardi Gras Indian tribe in New Orleans.
"I'm burning the candle at both ends and from the middle," he said.
When he finishes his semester here, Harrison is planning on touring in Europe and Japan and performing on a jazz cruise, which he said is "like a jazz festival on the water."
Whether he performs in front of thousands or a group at Aroma's Coffee shop, he considers each performance special. "If we have a connection with the audience, I feel it's special," he said. "One of the great things about music is that it's infinite. You can never learn it all, so it's something you can do for the rest of your life. And I'm finding out about jazz, the older you get, the more you appreciate it."
Harrison says he believes learning is of great importance because "the more you know, the more you are able to give." He says he also believes in giving. "I always say that if you helped one person in your life, it meant something," he said.