Homecoming 2006: Something for everyone

As promised, there was something for each of the thousands of alumni who descended on Williamsburg between Oct. 27 and Oct. 29 as the Alumni Association hosted its 80th homecoming weekend. Featured during the event were the usual rousing tailgate parties, fraternity and sorority reunions, children's carnival, assorted concerts, art exhibitions, family picnics and other activities to go along with the annual homecoming parade and football game. At the heart of the homecoming weekend, however, were the numerous class reunions, where old friends gathered to renew their ties and share their warm memories.
Jim Kelly ('51), who went on to serve as assistant to three William and Mary presidents, helped organize the reunion for members of his class. He perhaps put it best. "Homecoming? First of all, it represents a time in your life when you really grew up, came of age," he said. He recalled coming to the College in 1947 as a 17-year-old who found himself sitting in class next to World War II veterans who had just walked across France in the Army. "These people were so happy to be in college; these veterans lifted us up," he said. "They had survived. They were back in college. They made it very clear to us that this was going to be the best time of our lives, and it was a very good time. We've never forgotten it. Now we come back together to enjoy it, to tell stories, some of which are true, some of which improve each year."
Kelly's sentiment was echoed by numerous graduates during the weekend. Chris Sorrells (MBA, '96) said he simply was enjoying "the beautiful campus, the fond memories and a great school." Among his memories, he said, "were doing case studies at 2 a.m., of learning business, of hanging out with friends, of going to Paul's and the Green Leafe and of making friends for life." Sorrells, who went on to work on Wall Street before moving to Alexandria, said that in New York the bonds with fellow William and Mary graduates continued. "We were always talking about what our classmates were doing," he said. "As alumni, we would help each other out. If someone was out of work, we'd hear what they wanted to do and see if we could help them get a job."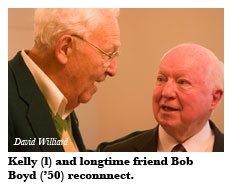 Darrell Wittkamp ('55), along with her husband, Bernie ('52), comes back to the campus every year for homecoming. "It never gets boring," she said. "There must be 600 parties going on; we can choose any 10 we want." Explaining that four of her five children also had graduated from the College, she said, "We get together and talk about our kids, but we also talk about who did what to whom and didn't confess—like the person who sent their stuffed rabbit to the laundry, which annihilated everything else in the laundry." She fondly remembered Dean Lambert, dean of students, who "always noticed if you were on the dean's list and never mentioned it if you were not." As a perennial member of that list, she said, her curfew at the College was 11 p.m., not the 10 p.m. in force for other young women. "Eleven p.m.," she said, "that's when the kids start to go out now—not that anybody back then was interested in dating a girl who was on the dean's list."
Mary Lou McIntyre ('66), who was planning to check out the floats and to attend a concert put on by the William and Mary choir, recalled borrowing a cafeteria tray—"You borrowed them; you didn't steal them," she said—and sledding down the hill by Chandler Court after a Christmas snow. As a transfer student, she said it was her "best memory" because it was her "first memory." Anne (Carson) Reese ('51) said she has attended every reunion except for her 10th, when she was nursing her newborn daughter. "I want you to know," she said, "that my daughter, Mary Reese Carson Jones ('83), is a graduate of this College. In fact, both of my daughters went here and were members of my sorority. The night they were inititated I got to come back and pin their pins on them. That is a great memory."
During a Saturday morning gathering, Reese presented a plaque to Kelly, honoring him for being their class president—it will become another great memory, she said.
If the feathers were flying this year, they were only a collective reaction against the National Collegiate Athletic Association (NCAA), an organization that earlier had ruled that the two avian plumes that adorned the College's athletic logo were potentially offensive to native Americans. Literally tens of thousands were defiantly displayed beginning at Saturday's homecoming parade and later at the football game. Some of the feathers were being sold throughout the weekend by members of the Student Assembly. Approximately 25,000 smaller feathers were distributed free by a student group called Young Americans for Freedom.
Joseph Luppino-Esposito, a junior at the College who helped found the group last year, explained, "The feathers were our protest to the NCAA saying that we disagree with its decision not to allow us to have them." As members of the group passed them out, the reaction was positive. "No one rejected the feathers," he said. "Even more so than the students, the alumni kept coming back for more."
Luppino-Esposito explained that the group, although disappointed that the College administration was not going to fight the NCAA over its ruling, said that he and other students support that decision. "We sort of disagree, but we understand why the College is doing what it is doing," he said. "We were saying it's a shame the NCAA put us in this position, but we understand the College's reasons for not pursuing the matter. We think the president's reasons [President Nichol previously had explained that the College would not divert resources needed to fulfill its core mission to a potentially protracted legal battle with the association] are valid."
Most of the alumni agreed with Luppino-Esposito. Even Bernie Wittkamp, for whom the highlight of attending homecoming this year was the opportunity to sport his feathers, said he was doing so "just to be obnoxious to the NCAA." At the same time, he said, "I understand the president's point.Why spend a bunch of money to battle idiots."
Said Dale Lee ('77), who is a collector of William and Mary sports memorabilia, "I just picked up 40 additional cards of William and Mary players who are in the pros, and this summer I spent about $500 on clothing and other items with the feather logos." Lee said that he would have understood if the NCAA had objected to the logos back when the College went by the nickname Indians. "I would prefer to keep the feathers. But it really has created a lot of enthusiasm for the football fans," he said.
Contributing to the success of the homecoming festivities were the countless hours contributed by staff members who set up the individual venues, by faculty members who gave 17 lectures as part of the academic symposium and by students who performed, hosted and generally welcomed alumni into the current College scene. Presentation of the Wailers in the Sunken Garden by members of the University Center Activities Board (UCAB) was among the highlights, as it brought together nearly 3,000 students and alumni for what amounted to a dance party in the Sunken Garden. UCAB member Amanda Nixon, a senior, said, 'It was huge. You could just feel the music. Everyone was dancing and singing. The whole campus was brought together." Between sets, she enjoyed talking with people from the various generations. "It was great to hear stories from people who were sad having just graduated in May. They said, 'I want to be back in college.' Others who missed the College, said that they still valued being around William and Mary."
Senior Kathryn Tydgat, who helped put together the William and Mary choir float that won the Best-in-Parade Award for the third consecutive year, explained that the students participate in part for the benefit of alumni. "We feel good about it," she said. "Choir members show up at all the official events; we're obviously 70 people who love the College, but the parade is a chance for us to show off the spirit we have in a different way to students and alumni who are used to seeing us only in our green-and-gold robes."
As did other alumni attending homecoming, Kelly had his own story to share. He recalled coming to Williamsburg from the western part of Virginia and attending his first French class. "They started speaking French, and the others knew what was being said," he recalled. He did not. Later in the day, he attended his first English class, led by a professor who had just come to the College from Harvard. "Afterward I went out and sat down on the steps of the Wren Building and thought, 'Boy, you sure are in trouble, because if the truth be known, you really understood more French than you did English,'" Kelly said.
Becoming more reflective, Kelly summed up the opportunity to return for his class reunion as "a rededication."
"We love this place," he said. "We have a responsibility to pass it on to the next generation. It does not belong to any of us; it's been loaned to us by the ages and by the alumni who preceeded us. They did their very best, knowing that William and Mary had many opportunities to disappear. Following the revolution, it should have disappeared. Following the Civil War, it should have disappeared. But it keeps coming back. You've got to believe there's a spirit here that will not let it die."