Day for dreams: Class of 2010 takes up residence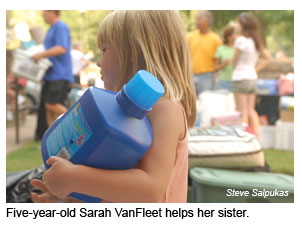 It was hard to sense who was more excited during move-in day at the College on Aug. 25: the freshmen who were arriving, the upperclassmen who were helping them haul their personal belongings into their rooms or the members of the College's staff who were assisting the entire endeavor.
Certainly members of the incoming class were "stoked," as one student was heard exclaiming to another in front of Barrett Hall. Other expressions floating about included "awesome" and "finally."
"It definitely is the beginning of a new life," explained Evan Scarlatelli ('10), who had driven down with family members from New Jersey. "It's pretty hectic, but it is so exciting to finally be here."
Meghan Burns, from Allentown, Penn., said she had been waiting for move-in day ever since her tour a year ago with the College's track and field squad, with which she hopes to compete. "I actually toured twice, and I know that I love it. It feels like home already," she said.
Although many of the freshmen had been drawn to the College by its moderate size and its academic reputation, several emphasized that their final decision involved the opportunity to join a College that has earned a positive reputation as a vibrant community. Indeed, along the walks, many new students were already on their cellphones trying to connect with classmates they had contacted on Facebook or other internet sites.
"When I came for accepted students day, they kept talking about how you come to William and Mary for the people," explained Allison VanFleet ('10). "Everywhere else I had looked, they talked about the location or the academic program. I'm a people person. I thought it was important to come to a place where the people were interesting."
Scarlatelli, who was drawn into a conversation about the hat with the Tribe feathered logo he had purchased a couple of years ago, expressed agitation that the NCAA had ruled against that symbol but said, "After all, William and Mary is not about the feathers. It's about the kids who choose to come here."
On campus, the incoming students and their families received lots of help from an estimated 300 upperclassmen and staff members, including the president of the College, who were available to carry things from their vehicles to the dormitory rooms.
"Absolutely I wanted to help. It's a giving back thing," said Biara Jackson, who recalled how much she appreciated the support last year when she first arrived at the College. Jackson was one of several students volunteering on behalf of the university's Black Student Organization. Commenting on some of the loads, she said the largest thing she saw was a futon. "Some things they will not be able to fit in their rooms, but they will live and learn," she said.
Anne Hyslop ('07), who was representing Alpha Phi Omega, said she volunteered when the Greek organization sent her an e-mail letter while she was studying abroad in Scotland last semester. "I really missed William and Mary, more than I had thought I would," she said, "and I thought, what better way go get involved on the first day and get right back into things." As she helped move one student in, she found herself working alongside President Nichol. "He was just walking down the sidewalk and introduced himself to Kate, an incoming freshman," Hyslop said. "I thought it was really great that he was out there and involved. I think Kate knew who he was, but I said, 'Hi President Nichol,' just to make sure she knew she was getting a special treatment."
The upperclassmen supplied not only muscle but also advice for their new peers. "Stay cool, drink lots of water and enjoy your orientation. You're only going to get to do it once," Hyslop suggested.
Jackson's advice was simple: "Make the most of your college years. Go for what you're really interested in and not what mom and dad want you to major in. And have fun," she said.
Added one of the senior orientation aides, "My advice to the incoming class is just to get Tribe Pride. Tribe Pride will give you everything you need."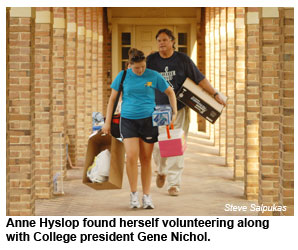 Several staff members who were move-in day veterans called the annual event one of the most exciting days on campus. Karen Cottrell, executive vice president of the Alumni Association who was helping to pass out bottles of water, said, "This is the best day for all of us at the university, not just for the students who are coming in but for all of us. It's a beginning. It is a day that is full of promise and dreams."
Patty O'Neill, development director for The Fund for William and Mary, said she was enjoying the "opportunity to welcome our newest members. Freshmen are going to begin their careers, and four years from now, who knows where they're going to end up."
Deb Boykin , director of residence life, was experiencing her 28th move-in day. She commented that except for a few traffic back-ups, the move-in process was going extremely well. She also was pleased that, due to availability of the new dormitories on Jamestown Road, there were only three "overcrowds"—where three students need to be temporarily housed in two-person rooms—this year. In past years, there have been as many as 50.
Said Boykin, "Move-in day never gets tiring. You see these young faces; they're so excited. It gives me gooosebumps. I talk about the two times a year that I get goose bumps—they are move-in day and commencement day."
In contrast to Boykin, Sean Pieri was experiencing his first move-in day as vice president for development at the College. He said, "I've only been out here this morning for 15 minutes, but the fact that the upperclasssmen welcome the freshmen and their parents into the William and Mary family is part of what makes this place so special. If you can't be excited about being part of that, there is very little you can be excited about."