College to continue early admission
Several weeks ago, Harvard and Princeton universities announced plans to discontinue their use of early admission, a move followed shortly thereafter by the University of Virginia. Those decisions brought new attention to an ongoing debate about early admission and left many wondering whether William and Mary would be next.
Not so, says Henry Broaddus, dean of admission at the College. While administrators at the College evaluate early admission on an annual basis, the program at William and Mary has proved to work well for prospective students, Broaddus said.
"Unfortunately, the notion that across-the-board abandonment of early admission will benefit low-income students is, at best, overstated," Broaddus said. "At worst, it's a potential distraction from more substantive obstacles to growing the pool of low-income students who apply to top-tier institutions and receive adequate financial assistance."
The issues surrounding early decision have been debated for years by admission officers. The process allows students to apply early—by Nov. 1 at William and Mary—with the agreement that they will enroll if they are accepted. Harvard was using a non-binding early-decision program. U. Va. and Princeton have used a binding early-admission process that was similar to the one at William and Mary. Some argue that their early-decision programs put students from low-income households at a disadvantage. According to one report, only one student who qualified for U. Va.'s maximum financial-aid package applied under early decision last year. Of the 947 students that U. Va. accepted under early decision, fewer than 20 applied for financial aid.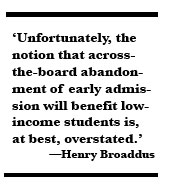 That is not the case at William and Mary, said Broaddus, adding that from an early-decision group less than half the size of U. Va., the College enrolled nearly four times as many students on need-based aid. This fall, the College enrolled 442 students who had been granted early admission, and 74 of them received need-based aid. Early-decision students made up 19 percent of entering students receiving need-based financial aid. That group also accounted for 24 percent of students who are part of Gateway William and Mary, a new program that enables students from low-income households to graduate free of debt.
"The real problem is not so much the inequitable displacement of low-income applicants by other students who commit early as it is the lamentable absence of low-income applicants in general," Broaddus said. "The real barriers—lack of access to quality public education at the secondary level, socioeconomic bias in college entrance exams, perceptions of affluent cultures at selective institutions, the high cost of tuition and the insufficient availability of financial aid—cannot be eliminated so easily."
At William and Mary, early decision accounted for 33 percent of the most recent entering class. That percentage has been fairly consistent for many years, Broaddus said. William and Mary will continue to evaluate its early-decision program each year, he said.
"When supported by outreach and recruitment efforts, a responsibly executed early-decision program that employs the same admission standards as regular decision and guarantees the same packaging process for financial aid need not work against the achievement of socioeconomic diversity," Broaddus said.
Moreover, the early-decision process still has some social good, Broaddus added. For the right student—someone who knows that William and Mary's intimate university setting and small class sizes are the right fit—early decision can shorten the admission process and relieve some of the stress involved in applying to college, Broaddus added.
"Where there is a clear match to be made, waiting for regular decision neither benefits the student nor prevents a mistake," he said. "Moreover, why should a highly qualified applicant who knows he or she wants to enroll at William and Mary also apply elsewhere and, in effect, take away another offer of admission from someone else?"
Eliminating early decision could also inflate applicant pools during regular decision, Broaddus said. Students who would have opted out of other pools after gaining early admission may file more applications than they otherwise would have, he explained.
"Ultimately, cynicism about early-admission programs and abuse of them by families [who see it as a way to improve a student's odds of admission] and institutions [which take in a high percentage of early-decision students as a way to inflate their yield] may reach a point where we're better off without them altogether," Broaddus said. "I hope we have not reached that point yet, but if we do, I hope even more fervently that we do not mistake the correction of that problem for true progress toward the correction of a larger one."