Celebration of Music marks end of semester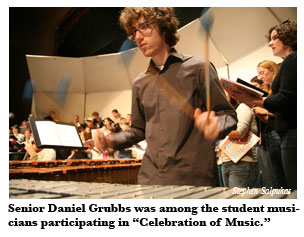 At the end of every semester, the College schedule is packed with musical performances as students are eager to demonstrate their newly learned skills. This year, for the first time, those concerts have been grouped together into a music festival to better showcase the diverse talents of the College's music students and faculty.
The two-week "Celebration of Music" kicked off here Nov. 29 with a student recital and jazz voices concert. It runs through Saturday, Dec. 16, ending with the Women's Chorus caroling from noon to 1 p.m. and the Botetourt Chamber Singers caroling from 3 p.m. to 4 p.m. in Merchants Square.
Approximately 300 students are performing everything from Beethoven and Tchaikovsky to Javanese gamelan music and Christmas carols.
"The festival showcases the musical life of the College," said Judy Zwerdling Zwelling, director of applied music. "Many people in both the College community and the local community have been unaware that there is such an amazing variety of first-rate ensembles and performances coming out of the department of music."

Pam Greer was in Williamsburg visiting her mother when they saw an ad promoting the festival in a local paper. They decided to attend the Javanese gamelan performance Dec. 5 because it was unique, she said.
Guest musician Pak Muryanto joined the gamelan ensemble in the performance. Guest dancers from the Indonesian Embassy in bright costumes also performed, moving to imitate peacocks during one piece and even pulling members of the audience up to join in the dancing during another.
"It was wonderful. It was very interesting and more complicated than I thought," said Greer. "This was the first performance we have attended at William and Mary. We didn't know they had anything like this."
The festival not only has offered diversity in its offering of performances, but diversity within the performances themselves, said Zwelling.
The Holiday Hybrid concert on Dec. 6 was divided into two parts, "the serious part, and the not-so-serious part" joked Evan Feldman, assistant professor of music, director of bands and wind symphony director.
During the first part, the symphony performed pieces by Paul Dukas, Paul Hindemith, Dmitri Shostakovich and Ron Nelson. During the second part, the members of the symphony came back on stage wearing holly, scarves and Santa hats to perform holiday music, including Steve Reisteter's "The Eighth Candle," which Feldman described as being similar to music from the movie "Pirates of the Caribbean"—but with Johnny Depp replaced by a rabbi.
During the second part of the concert, there was even diversity in the conductors as Feldman's conducting students "tag-teamed" the role of conductor during the "Sweet Sound of Christmas."
The performance ended with a few surprises, including snow and an appearance by Santa and Mrs. Claus (former band director Michael Williamson and his wife, Judy).