'Who are you?' Sullivan asks 2005 graduates
President Timothy J. Sullivan urged members of the College of William and Mary's Class of 2005 to begin their post-college lives by trying to answer a not-so-simple question.
"Who are you?," Sullivan asked rhetorically at the College's commencement exercises on May 15. "It seems simple enough, I know, but even this question is harder to answer than you think."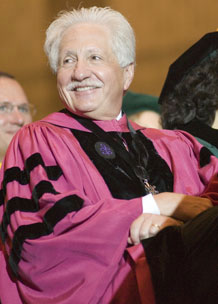 Sullivan, who is serving out the last months of his 13-year presidency, is the first president of the College to serve as commencement speaker, according to Rector Susan Aheron Magill. She said that this year's speaker was picked according to the usual criteria—"the most eloquent, the most meaningful, and the most appropriate speaker to address the class."
William and Mary awarded approximately 2,020 degrees on Sunday, including 1,350 to undergraduates. Author and historian Sir John Elliott and linguist Margaret McKane Mauldin were presented with honorary doctorates, as well.
President Sullivan's address made little reference to his 32-year career at William and Mary, which included service as a professor and, later, dean of the Marshall-Wythe School of Law. Keeping the focus on honorees, he spoke directly to the graduates, in a message stressing the importance of values and advice from his own experiences laced with illustrations and quotations from a diverse group that spanned Homer to Einstein to K.T. Oslin.
"We live in a culture that is dominated by a presumption of entitlement. That culture makes us want to believe that effort and achievement are disjoined—and that's not right," he said to a standing-room-only gathering in William and Mary Hall. "In my life's experience, what is achieved is almost always an expression of what is valued and what is earned. Put another way—your values are your destiny."
He called on the graduates to embrace four qualities:
Be honest: "To trifle with truth will corrupt everything you try to do."
Be fearless: " To be in thrall to fear means that you are ruled by weakness and that almost always means bad decisions which will make a moral desert of your life."
Be gentle: "By gentleness I mean a quality that cultivates a serene self-containment and which reflects self-discipline."
Be tenacious: " In the world you are about to enter, you will find no shortage of people with brains, winning ways and great ideas. What you will find in short supply are those with the tenacity to stick to a plan."
The traditional student remarks were delivered by Benji Kimble, who cited work as a tour guide for the admission office as being one of his most rewarding experiences, especially the opportunity to tell prospective students of the "big names" associated with the College.
"So I want to tell members of the Class of 2005, you are the next big name," he said. "Future generations at William and Mary will mention your name with George Washington, Thomas Jefferson and Jon Stewart."
Recipients of special awards and prizes were announced, including:
Dimitar Vlassarev, who received the Lord Botetourt Medal, given to the graduating senior who has attained the greatest distinction in scholarship.
Jason M. Franasiak, awarded the James Frederic Carr Memorial Cup, recognizing the graduate who best combines the qualities of character, scholarship and leadership.
Alacia Grace Browder, George E. Srour and the Rev. Dr. Sidney Parks, all of whom received the Algernon Sydney Sullivan Award.
Amanda Lynn Howard, who received the Thatcher Prize for Excellence in Graduate and Professional Study.