Olbrych explores history of guitar on his first CD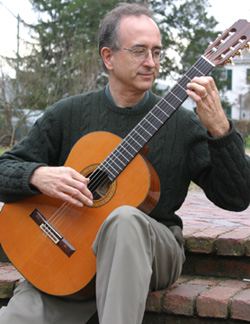 At age 54, Tim Olbrych decided it was about time he record an album. So the founder of William and Mary's guitar program and performing artist faculty member of the College's music department since 1978 picked out 35 guitar pieces spanning five centuries and just did it. The recently-released result,
500 Years of Spanish Guitar
, now serves as Olbrych's business card.
"I've been doing concerts all my life, but I had nothing to show for it," Olbrych said. "For a musician, putting out an album is just like getting something published. If you want to get more concerts, you've got to have a CD."
His newly-recorded portfolio, though, is much more than a way to advertise his expertise—it reflects his individual playing style, his ideas, and his personality.
"I've never seen most of the early pieces on this album recorded anywhere—the later selections are some of my favorites, the things I've always wanted to record," Olbrych said.
Whereas many of his colleagues are after the latest and best in instruments and technology, Olbrych finds himself moving in other directions, fascinated by the much older and rarer renaissance and baroque guitars. Along with the more traditional and recent Spanish guitar—what most folks would be tempted to call a classical guitar—these 16th and 17th century instruments provide a musical tour of the guitar's history.
"It's interesting that, generally speaking, as time goes by, the guitar got bigger and so the sound got lower," Olbrych said. "The renaissance guitar is small and has four courses (sets of strings) while the baroque is larger and has five course. Then there's the Spanish guitar, which bigger and even adds another string."
Differences of sound between the instruments are tangible, made apparent as Olbrych articulates each with expert precision and inspired interpretation on his album. Describing the music for each instrument moves from "a delicate timbre; frilly and ornate" to "a rich sound; clarity of form." Every guitar requires a unique technical approach in tunings, fingerings and plucking. Strumming, however, remains the sole constant in technique.
The recording will serve as a teaching tool for Olbrych, especially for students in his classes working on some of the previously unrecorded material. "My students can listen to exactly how I think the piece should be played," Olbrych said with a laugh. There is also the history lesson inherent in the album; each piece is played and recorded to sound as close as possible to the way the music of the period was performed—a challenge requiring more than technique alone to accomplish.
"I try to approach each piece as thoughtfully as possible, taking into account the history and philosophies of the time," Olbrych said.
With decades of studying, practicing and listening informing his every performance, there are few better equipped to lead listeners through 500 years of Spanish guitar. And at the moments where songs seem to demand impossible feats from his fingers—when notes are played almost faster than the ear can keep up—Olbrych relies on his experience to transcend thoughtfulness. "In those moments, you can't think too much," he said.
"That's where all the years of practice come in and you trust your fingers to do what they're supposed to do."
"I can play these songs 50 times, and each time, I find something new that I love about them," Olbrych said.
Even after playing each piece over and over and over again, Olbrych never tires of the music. It is what he truly loves—his passion—and it shows on 500 Years of Spanish Guitar.
Tim Olbrych's CD, 500 Years of Spanish Guitar, is available at local record, music, and book stores, and on the web at www.timolbrych.com.