Hart's restless adventure, English professor follows in the footsteps of his great-grandfather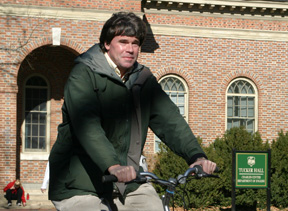 Henry Hart is restless—restless in the tradition of many writers, restless in the sense of his great-grandfather, the Swedish "Duke of Mongolia," whose celebrated adventures as missionary, diplomat, horse trader, expedition leader and spy made him both subject of admiring international biographers and something of a cult hero within the Hart clan.
Hart, a professor of English at the College, is restless for the next thing. "Perhaps it is genetic," he says, contemplating his relationship with Frans August "Duke" Larson and admitting that his own exploits as an adventurer are, of course, more of a literary sort.
"I think both of us are explorers in one way or another," he says. "My great-grandfather explored exotic geographical regions, but I like to explore different genres. I started out as a poet, and then I wrote three books of literary criticism about three well-known poets. Then I wanted to explore the field of biography, which I did."
Next on his list is another genre: "I am kind of interested in writing fiction, too," he says.
His work of fiction, a book tentatively titled In the Shadow of the Great Wall, already is in progress. Hart survived the research trip. It took him into Mongolia's Gobi Desert last summer and nearly left him lost as he "retraced the footsteps" of his great-grandfather in order to develop backgrounds and traits for his novel's protagonist. Back at the College, the next hurdle has been engaged: His agent has seen the draft. Prospective publishers have reacted, and revisions are under way.
Into the desert
Hart's trip to Asia began in Stockholm, where he met up with Axel Odelberg, a biographer was working on a Swedish documentary about Hart's Duke Larson. From there, the two men traveled to China. Hiring a driver with a Toyota Land Cruiser and a guide with a compass, the pair then traveled inland, where the trappings of modern centuries seemed to retreat with each jolting kilometer.
"When you get out in the countryside, you see farmers who are plowing with oxen the way they plowed 1,000 years ago," Hart says. "We stopped in little towns with hotels that had no plumbing—no sinks, no toilets, no bathtubs, no showers."
In the Gobi Desert, even the roads disappeared, and the stress of a hostile environment was exacerbated by a driver who plowed recklessly through the wheel ruts that marked the routes and a navigator whose compass, a recent upgrade from a Kentucky Fried Chicken giveaway, seemed wayward, at best. Although Hart and Odelberg insisted that the driver slow down and that the navigator consider input from the global-positioning system, their commands produced modest results. Repeatedly their bodies were jarred; often their party was clueless as to where they were. And, almost every afternoon, their driver nearly fell asleep at the wheel.
Hart describes one such evening: "After we got lost in the desert, we crossed a little road and met some shepherds in a yurt," he recalls. "The shepherds said if you travel down the road about eight kilometers, there's a little truck stop. We did. At the truck stop, they had a gas canister to cook the food, but no electricity, just candles for light. The building was just a concrete cubicle set out in the desert. When we went to our room to lay out our sleeping bags, there was a clothesline with big hunks of meat drying there. There was a sheep pelt—it looked as if it had just been cut off a sheep. The beds were just wooden planks.
"I remember going outside that night, and there was no interfering light," Hart continues. "We were in the middle of the desert. We didn't see much wildlife; not many insects; just nothing. It was so silent, and I had never seen so many stars. I could see the Milky Way; I could see satellites going over; I could see shooting stars."
The trip into the desert, of course, was only part of the research. In China's cities, Hart had a chance to gauge the people and, in many respects, envision China's potential.
"One of the things I came away with was a better understanding of a different culture on the other side of the world—a culture that is taking off right now," he says. He talks easily about the challenges China will pose in the future as its economy mushrooms: the fact that it had a growth rate of nearly 10 percent a year while he was there; the fact that U.S. work is being outsourced there because the average industrial worker is making $1,000 per year compared with the $35,000 per year plus benefits paid in the United States, the fact that resentment toward the Japanese remains incredibly strong, resulting both from Japan's occupation of China during the World War II and Japan's unprecedented postwar economic recovery. He can foresee China becoming a superpower, even as the United States relinquishes influence by spreading itself, in the tradition of previous empires, thin.
Primed for a new challenge
Needless to say, the ideas with which Hart left China will be woven into both the scenes and the characters in his forthcoming book, which he hopes will be published within the year. So, too, will his change in perspective. Already it has led him to reflect on his own past, in which he grew up on a little farm on a dirt road from which he could not see another house. He wonders whether Americans, with their limited awareness of other languages and cultures, are capable of understanding where the United States fits into the global picture. Writers, he does know, need to understand the broader dimensions.
"All writers know they need that angle," he says. "They need that different perspective. I'm sure that's why so many famous writers have gone abroad, not only because Paris was cheaper for Hemingway and all the expatriates, but they got a new and different perspective on their world."
Now, turning toward the task of refining a manuscript into a finished novel, he embraces his own new challenge. Perhaps it contains the same risks of failure and success that confronted his great-grandfather as he went from missionary to duke to horse trader to spy.
"I'm a little bit nomadic. Like my great-grandfather, I move from one field to another because I'm interested in the different fields. I don't want to get bored just working on one thing," Hart explains. "Besides, when you turn 50, as I did this summer, you want to explore as many different fields as possible. Maybe I am a little restless. Perhaps it's the 'Duke' in me. It's just the way I'm constituted. I like the stimuli."