Jon Stewart ('84) is seriously funny for Class of 2004
Twenty years after he received his undergraduate degree from the College of William and Mary, nationally known comedian Jon Stewart returned to his alma mater with some serious advice for 2004 graduates.
"Today is the day you enter the real world, and I should give you a few pointers on what it is," said Stewart, a member of the Class of 1984 and host and executive producer of Comedy Central's fake newscast "The Daily Show with Jon Stewart. "It's actually not that different from the environment here."
"The biggest difference is you will now be paying for things, and the real world is not surrounded by a three-foot brick wall," he joked. "And the real world is not a restoration. If you see people in the real world making bricks from straw and water, those people aren't Colonial re-enactors. They are poor. Help them."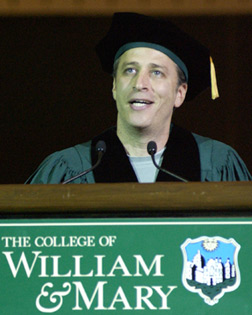 Roughly 13,000 people packed into William and Mary Hall to see Stewart, who has become a cultural icon when it comes to political satire and projecting comical criticism on everyone from members of the media to world leaders.
Stewart did not disappoint an enthusiastic crowd.
"I know there were some parents that were concerned about my speech here tonight, and I want to assure you that you will not hear any language that is not common at, say, a dock workers union meeting, or a Tourrett's convention or a profanity seminar. Rest assured," said Stewart, who joined the distinguished ranks of Thomas Jefferson, James Madison, Harry Truman and Margaret Thatcher when he received an honorary degree.
"When I think back to the people who have been in this position before me, from Benjamin Franklin to Queen Noor of Jordan, I can't help but wonder what has happened to this place. Seriously. It saddens me. As a person, I am honored to get it; as an alumnus, I have to say I believe we can do better," said Stewart, poking fun at himself. "But it has always been a dream of mine to receive a doctorate, and to know that today, without putting in any effort, I will. It's incredibly gratifying."
However, most of the comedian's speech focused on the stars of Sunday's event – the 2,033 graduates of William and Mary.
"When you are in college it's very clear what you have to do to succeed," Stewart said. "And I imagine everyone here knew exactly how many more credits they needed to graduate, where to buckle down. But the unfortunate, yet truly exciting thing about life is there is no core curriculum. The entire place is an elective."
He added, "College is something you complete. Life is something you experienceSo don't worry about your grade, or the results or success. Love what you do. Get good at it."
In recognition of his remarkable list of accomplishments in the entertainment world, Stewart was awarded an honorary doctorate of arts from William and Mary President Timothy J. Sullivan, who also introduced the "host" of graduation.
"Your insight has had a very real and most welcome effect on this nation's civic discourse," Sullivan said of Stewart and his role as host of "The Daily Show." "Your literate, humane, and hilarious criticism reflects a passion for our country's potential and reminds us when this potential goes unfilled."
Sullivan also addressed the new graduates and urged them to seek all of life's prizes – not only the glittering ones such as fame, power and wealth -- but also the secret prizes of life such as the love that only comes with true friendship.
"Do not forget – and do not neglect – the quieter competition for the secret prizes, which at the end of life's long sweep will leave you not with fame, not with power, not with wealth – but with the abiding love of friends whose friendships you have earned and the profound satisfaction of having drawn from the deepest wells of your own humanity in the spirit of charity and the cause of hope," Sullivan said.
Closing the commencement exercises, senior speaker Adam Stackhouse described the college community as one big family home laced together by friendships and brick sidewalks. It is a community small enough that you can cross the campus and see somebody you know, yet large enough that you will meet somebody new, Stackhouse said.
He cited Tribe Pride, which grows out of large things, such as hosting Jon Stewart as commencement speaker, but which is "born in the smallest of moments."
"Go forth," said Stackhouse, challenging his classmates to stop and serve others while pursuing success. "But take time to always remember the brick pathways that will lead you home."
In addition to Stewart, William and Mary presented two other honorary degrees at commencement. William Ivey Long, a Tony award-winning costume designer on Broadway and a member of the Class of 1969; and Carolynn Reid-Wallace, former president of Fisk University, nationally recognized scholar and Williamsburg native, received honorary doctorates of humane letters