W&M names University Center after Sam Sadler ('64, M.Ed. '71)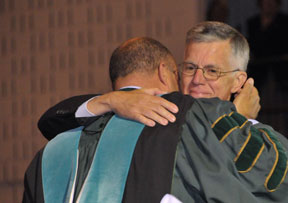 (Williamsburg, VA) – William and Mary announced Sunday that the University Center – the largest multi-purpose building on campus – will be renamed the Sadler Center, in honor of retiring College icon Sam Sadler.

Michael K. Powell, Rector of the College, made the surprise announcement during William and Mary's graduation ceremony – the 31st consecutive commencement Sadler has organized. Sadler ('64, M.Ed. '71) , who has worked at the College since 1967 – including the past 19 years as vice president for student affairs – is retiring this summer.

"There are few buildings on this campus that are frequented more often by students or more recognizable than the University Center," Powell said. "And there are few individuals who give as much to this College than Sam Sadler. Now, when students enter this building, they will forever be reminded of a man who devoted his life to his alma mater and to this student body. It is with great pleasure that we rename this facility the Sadler Center."

Like most everything touching students' lives in the last four decades, Sadler guided the planning and design of the U.C., which was dedicated as a $12.5 million student activities building in 1993 -- the year of the College's Tercentenary Celebration. Located adjacent to Zable Stadium, today the three-story complex houses everything from the Commonwealth Auditorium – the College's largest auditorium after Phi Beta Kappa Hall -- to a number of multi-purpose rooms used by students, faculty and staff. It also is home to one of the College's largest dining halls as well student retail and recreation space.

"This building serves the College in so many important ways. It really is central to student life and campus events -- much like our friend and colleague Sam Sadler," said Interim President W. Taylor Reveley III. "Having Sam's name forever linked to it will be a source of great pride for us all."