William and Mary student named to USAToday academic team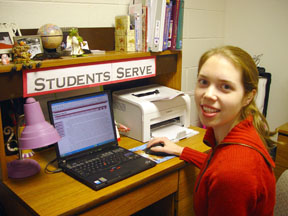 (Williamsburg, VA) – Senior Angela Perkey has been named to the third team of USAToday's All-USA College Academic Team. The award was announced in the Feb. 14 edition of the newspaper.

"I feel very honored to be recognized as one of the top college students in America by USAToday," Perkey said of the recognition.
Perkey will graduate in May with a double major in economics and government – a feat she accomplished in just three years. On campus she is involved in both academic and extracurricular activities. In 2005 Perkey was a member of the college's World Champion Model UN Team, and last summer she interviewed over 60 United States senators and representatives as a part of an independent research project.

The All-USA College Academic Team is an annual program that recognizes 60 outstanding scholars from universities and colleges nationwide in three teams. Candidates are evaluated on the basis of grades, academic rigor, leadership, activities and a self-written essay submitted with their nominations, according to the program's web site.

A Monroe and a Sharpe Scholar at William and Mary, Perkey said she believes in the importance of both academic studies and public service.  She is the founder and executive director of Students Serve, a national nonprofit organization that provides academic service grants to college students.  Students Serve is the only national organization of students giving grants to students.

More details about the All-USA College Academic Team are available on-line at http://www.usatoday.com/news/education/2004-08-12-2005-colllege-team_x.htm.