William and Mary logs another record year for applicants: Undergraduate admission applications up 6 percent to more than 11,500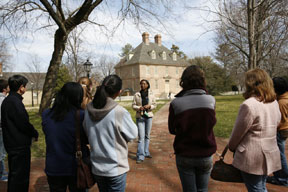 (Williamsburg, VA) – William and Mary's undergraduate admission applications have topped 11,500 -- which represents a 6.2 percent increase from last year, including a rise of nearly 15 percent in applications among in-state students.

The total application numbers represent another record year for the College – its third in a row – in terms of total undergraduate applications. In addition, the increase of more than 6 percent would be the highest percentage increase in undergraduate applications in three years. Last year, the College recorded more than 10,850 applications, which at the time was itself a record.

"Every year more young women and men come to understand that William and Mary is a university and a community unlike any other -- a notion our admissions staff advances far, wide, and most effectively," said William and Mary President Gene R. Nichol. "My colleagues and I look forward to the next extraordinary class they'll assemble from among this record-setting and diverse group. Their success is credit to all who advance the mission of the College."
Henry Broaddus, dean of admission, credits this year's increase to a combination of factors, including expanded outreach efforts by the admissions staff, particularly among in-state prospective students, and the College's continued reputation as the country's top small public university. Most notably, undergraduate applications from in-state students rose 14.6 percent.
"Where we've seen our greatest growth has been among our in-state students and that's where we've focused our greatest amount of resources. We're thrilled to see a return on those efforts," Broaddus said. "Students and their families are receiving the message that William and Mary has much to offer as one of the top small liberal arts research universities in the country."

This year's pool also showed a significant increase (16.4 percent) in applications from students of color, which represents African-American, Asian, Latino/Hispanic, Native American students. That includes an increase in applications of 18.8 percent from in-state students of color and an increase of 14 percent from out-of-state students of color. Out-of-state undergraduate applications also rose this year, increasing slightly by about one percent and reversing last year's trend that saw a decrease in applications from prospective students outside the Commonwealth.

"This applicant pool is not only the largest in the history of the College but it also represents one of the most diverse and most competitive we've ever had at the College," said Earl Granger, associate provost for enrollment. "We want to enroll the best and brightest class possible and this is a tremendous start. We'll be selecting the next generation of William and Mary leaders."

Admission staff have begun the task of reading and reviewing each of the more than 11,500 applications. Of that group, more than 3,000 prospective students will be offered admission as officials anticipate enrolling a freshman class of about 1,350 students. Offers of admission will go out by April 1.