Three students awarded Goldwater Scholarships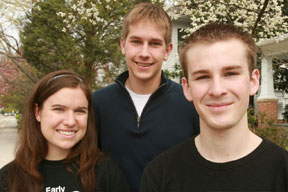 (Williamsburg, Va.) – Three College of William and Mary students will continue their undergraduate studies next year with the aid of Goldwater Scholarships, the Barry M. Goldwater Scholarship and Excellence in Education Foundation has announced. Heather McConchie, Mark Streer and Daniel Zabransky were among 321 sophomores and juniors nationwide recognized by the foundation. In addition, sophomore Benjamin Brush was awarded an Honorable Mention by the Goldwater Scholarship Committee.

"The Goldwater Scholarships are a marvelous recognition of Heather, Mark, and Daniel's extraordinary endeavors in research," said W. Taylor Reveley III, interim president of the College of William & Mary. "Following on the last few months' announcements of our Marshall, Gates, and Truman scholars, the Goldwater news speaks volumes about the quality of undergraduate scholarship at William & Mary."

The three Goldwater Scholars join a compliment of William and Mary students recognized this year for their scholastic accomplishments as Fulbright, Truman, Gates, Marshall and Gilman scholars. Still, other students have received academic recognition with awards ranging from acceptance as a junior fellow for the Carnegie Endowment for Peace to placement on the USAToday All Collegiate Team.

Goldwater Scholars are selected on the basis of academic merit from students in the fields of mathematics, the natural sciences and engineering. This year the applicant field included 1,035 mathematics, science, and engineering students from colleges and universities nationwide. The one- and two-year scholarships will cover the cost of tuition, fees, books, and room and board, up to a maximum of $7,500 per year.

McConchie is a biology major from Chesapeake, Va. Her current undergraduate research focuses on molecular genetics, specifically the DNA repair process. The sophomore said she hopes to ultimately complete an MD/PhD program and perform clinical research in biomedical science. McConchie said she chose biomedicine because "it is dynamic and always has the potential for progress in society."

Zabransky, also a biology major, focuses his research primarily on the analysis of the structure of HIV and the way it infects cells. The Manassas, Va. native works with researchers at the National Cancer Institute where he will work full-time this summer. After graduation next year, Zabransky hopes to earn a PhD and attend medical school. A Goldwater honorable mention last year, he sees this year's award as a "huge honor, and a nod to the future.

"The scholarship is not only a great honor, it's a reminder that I'm making a commitment to helping people by moving science and medicine forward through research," the junior said.

Neuroscience major Mark Streer focuses his research on thermoregulation. More specifically the junior said, "We look at the neurons in the hypothalamus responsible for coordinating an organism's homeostatic set-point." Streer says he finds studying the brain intriguing, because while the brain seems like a simple enough organ on the outside, it's somehow responsible for everything we think and feel. Streer, also from McConchie's hometown of Chesapeake, Va. sees graduate school – perhaps a doctorate – in his future.

"All four of these students were exceptional candidates for this award, especially in terms of their undergraduate research records. They made it through very stiff competition just to get the College's nomination. The Goldwater Scholarship is the highest national honor for an undergraduate studying science or engineering, and we are extremely proud of all of them," said Lisa Grimes, director of fellowships and associate director of the Charles Center.

The Goldwater announcement comes on the heels of a tremendous streak of accolades for William and Mary students. Eleven William and Mary students were awarded Fulbright Scholarships in 2007 and this year's scholarship awardees have included Judd Kennedy, Marshall Scholar – just the third in the college's history; Katie Ball, William and Mary's 11th Truman Scholar and Matthew Oreska, Gates Scholar – also the school's third. In addition to these scholarship recipients, senior Angela Perkey was named to USAToday's All College All-Stars, third academic team, and six William and Mary students and graduates just recently received National Science Foundation Graduate Research Fellowships.

The Goldwater Foundation is a federally endowed agency established by Public Law 99-661 on November 14, 1986 in honor of former U.S. Senator Barry M. Goldwater. In its twenty-year history, the Foundation has awarded 5,523 scholarships worth approximately fifty-four million dollars. Recent Goldwater Scholars have been awarded 70 Rhodes Scholarships, 94 Marshall Awards (8 of the 40 awarded in the United States in 2008).

For more information on William and Mary scholarships, visit http://www.wm.edu/scholarships.