Rastogi awarded Lord Botetourt Medal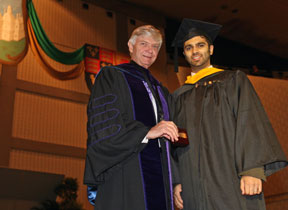 (Williamsburg, VA) – Recent graduate Ashwin Rastogi, a double major in physics and mathematics, received the 2008 Lord Botetourt Medal at the College of William and Mary's commencement ceremony May 11.

The Botetourt Medal was established in 1772 to honor students with literary merit. Today, the medal is presented to the graduating senior with the highest distinction in scholarship. He belongs to the honors fraternity Phi Beta Kappa.

"Ashwin, you richly deserve this honor," said Interim William and Mary President W. Taylor Reveley III. "Congratulations."

Graduating with a 4.0 grade point average in physics and mathematics, Rastogi also received honors in physics. Beyond his expected class work, Rastogi has also published twice in mathematics research journals and co-authored an article on original research in elementary particle theory, published in a major physics journal.

His professors write of Rastogi, he… "is the kind of undergraduate student that a physics professor is lucky to come across perhaps once or twice in his or her career."

Rastogi is also being recognized by his selection for a nationally competitive Goldwater Fellowship and the College's Jefferson Prize in Natural Philosophy, among other awards for his research and scholarship. He also accomplished the highest score possible on the graduate school entrance exam (GRE) for physics. It is now surprise Rastogi's future plans include the pursuit of a graduate degree.