Mize tapped for Beales Award at William and Mary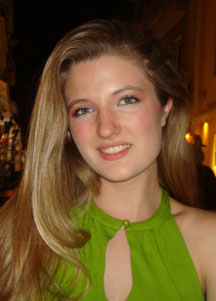 (Williamsburg, VA) – Kate Mize, a Galileo Magnet High School graduate from Halifax, Va., has been named recipient of the 2008-09 Harriett Pittard Beales Scholarship at the College of William and Mary. The annual scholarship, which provides tuition assistance to an incoming first-year student from one of 13 south central Virginia localities, was established in 1984 by members of the Beales family of Boydton, Va.

"It was such a wonderful surprise when I found out I'd been named this year's Beales Scholar," Mize said. "It's a really big honor and will help tremendously as I settle in and get to work at William and Mary."

Mize has taken courses at Danville Community College and worked as an International Baccalaureate diploma candidate. She has also been an intern at a biotechnology lab, an active member of the Model U.N., a National Merit Commended Scholar and a leader in Roots & Shoots, a community service organization. At William and Mary, Mize plans to pursue her interest in biology.

The Beales Scholarship is named in honor of Harriett Pittard Beales, a member of William and Mary's Class of 1934 and an active participant in the Boydton and William and Mary communities who enjoys working with and helping young people. At William and Mary, Mrs. Beales served as president of the Women's Honor Council and was named to Mortar Board. Her sons, Walter R. Beales III and The Honorable Randolph A. Beales, also graduated from the College.
According to Walter Beales, the scholarship supports two of his mother's most important interests — southern Virginia and William and Mary. "Our family is delighted to be able to honor her by helping outstanding students from this region attend the school to which we all feel so connected," he said.

The Harriett Pittard Beales Scholarship assists a student each year from one of the following Virginia localities: Amelia, Appomattox, Brunswick, Buckingham, Charlotte, Cumberland, Greensville, Halifax, Lunenburg, Mecklenburg, Nottoway and Prince Edward counties and the city of Emporia. Recipients are selected based on academic secondary/preparatory school performance, extracurricular community activities and service, outstanding character and other personal achievements. All students from the localities listed above are automatically considered for this award upon admittance to William and Mary.