Loria honored with Sullivan Award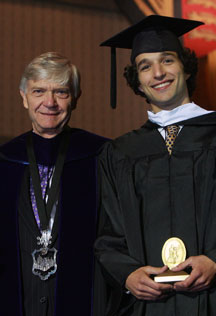 (Williamsburg, Va.) – Recent graduate Shaun Loria, a religious studies major at the College of William and Mary, received one of two student Sullivan Awards during commencement exercises May 11.

Established to honor the life of Algernon Sydney Sullivan, the awards are presented to one man and one woman in each graduating class and to one person with a close relationship to the College for recognition of the characteristics of heart, mind and helpfulness to others.

"Shaun Loria serves others with an ease and modesty distinctive even in a community as committed to service as this one," said Interim William and Mary President W. Taylor Reveley III. "Shaun defines, for us, kindness and selflessness."

Loria's award applauds his commitment to service activities, particularly in working with children. In his junior year, Loria established a tutoring program for local children, and the summer after, he volunteered in a College program to build housing in Mexico, where he proceeded to teach at a local orphanage for an extra month. Loria has been a regular volunteer in the READ program, assisting elderly patients in a local nursing home, and after graduation, he plans to teach special education classes in an underprivileged school in Phoenix, Ariz.