James R. Golden named College of William and Mary vice president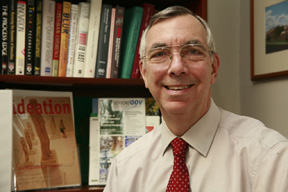 (Williamsburg, VA) – James R. Golden, who has led the College of William and Mary's economic development efforts since 1999, has been named vice president at the College. Subject to approval from the William and Mary Board of Visitors, Golden's new title will be vice president for strategic initiatives.
Golden, who will continue to have operational responsibility for the Office of Economic Development, will assume his new responsibilities Aug. 1, 2008. He will also assume administrative oversight of the offices of government relations, university relations and publications, departments that were under Vice President for Public Affairs Stewart Gamage. Gamage is leaving William and Mary this summer to become director of the Morven Project at the University of Virginia Foundation. As vice president, Golden will report directly to William and Mary Interim President W. Taylor Reveley III.
"Gen. Golden has compelling ability and experience," Reveley said. "I am very grateful for his willingness to take on these new responsibilities."
In his new role, Golden will help the university develop a strategy for greater financial sustainability. He will take the lead in identifying and evaluating revenue-generating entrepreneurial opportunities and ways to improve William and Mary's operational efficiencies. Golden will also assist in the development of a new strategic plan for the university.
Golden graduated from the United States Military Academy at West Point in 1965 with a bachelor of science degree in engineering. He received a master's in public administration from the Kennedy School at Harvard University in 1967 and earned his doctorate in economics from Harvard in 1972.
A retired brigadier general who spent 31 years in the U.S. Army, Golden served in artillery units and then taught at West Point for many years, ultimately heading its Department of Social Science for seven years. The department included roughly 60 faculty members in economics and political science, and an Office of Economic and Manpower Affairs that provided analysis for the Army leadership.
During the 1970s, Golden served intermittently under three U.S. presidents as a senior staff economist on the President's Council of Economic Advisors. Golden also spent a year in Germany in 1981-82 as a Fulbright Professor. After retiring from the Army, Golden served as Executive Director of Technology and Executive Assistant to the CEO and Chairman at Tenneco, Inc.
Golden came to William and Mary in 1999 as director of economic development and corporate affairs. In 2006, he was appointed associate vice president for economic development. Since arriving at the College, Golden has been a major part of many important projects, including William and Mary's role in the development of New Town and its partnership in the Crossroads Project. He also played an integral role the creation of the William and Mary Real Estate Foundation, which is working to develop and enhance property near campus and improve student retail options in Williamsburg.
Under Golden's leadership the past nine years, William and Mary's economic development operation has provided the successful link between faculty and businesses in an effort to pursue mutually beneficial research opportunities. For example, the College's Technology and Business Center has been active in identifying faculty and business interests and promoting collaborations, particularly in the areas of sensors, modeling and simulation, bioscience, marine science and business consulting.
"We've worked closely with local, regional, and Commonwealth economic development organizations to help improve business opportunities," Golden said. "We hope to leverage those relationships to provide new strategic opportunities for William and Mary, and to help tap faculty expertise in evaluating potential strategic initiatives."
Golden and his wife, Elaine, live in the Williamsburg area and have three married children and six grandchildren.