Harris honored with the Sullivan Award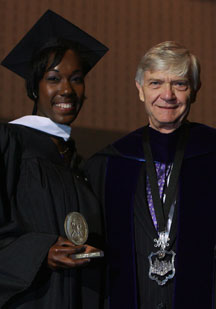 (Williamsburg, VA) – Recent graduate Jeree Michele Harris received one of two student Sullivan Awards during the College of William and Mary's commencement ceremony May 11.

Established to honor the life of Algernon Sydney Sullivan, the awards are presented to one man and one woman in each graduating class and to one person with a close relationship to the College for recognition of the characteristics of heart, mind and helpfulness to others.

"Jeree Harris is a young woman of uncommon grace, dignity, humility and commitment. From her first days on the campus, she has involved herself in activities that benefit others," said Interim William and Mary President W. Taylor Reveley III.

A self-designed major in social justice and community advocacy, Harris has earned a number of service-related awards during her time at the College, including the 2007 President's Award for Service and the Spirit of Service Award. Harris also participated in the Williamsburg-James City County public school alternative education program, and when it was threatened with elimination, she organized and led a campaign that ensured the school program would continue, providing students with the support and structure they need. Harris has also served as an officer in the NAACP, participated in and later served as a teaching fellow in the Sharpe Community Scholars Program, and has been a member of the Service Leaders Corps.