Morse receives Graves. Jr. Award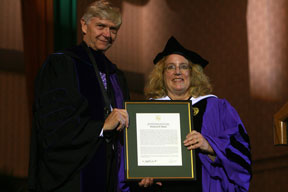 (Williamsburg, VA) - Deborah D. Morse, professor of English at the College of William and Mary, was presented with the 2008 Thomas Ashley Graves Jr. Award at the College's May 11 commencement exercises.

Created to honor former-President Graves for his 14 years of service to the College, the award is presented annually in recognition of sustained excellence in teaching. The award recognizes both the praise and enthusiasm from Morse's students, and her record of commitment to serving the College.

"The mediocre teacher," as one sage puts it, merely "tells." The good teacher explains. The superior demonstrates. The great teacher "inspires," said Interim William and Mary President W. Taylor Reveley III. "How do you know who is the inspiring teacher? You see it in her students. The young men and women who follow, like disciples, the lectures of Professor Deborah Morse of the Department of English are truly inspired."

In eight years at William and Mary, Morse has directed or co-directed 14 Senior Honors Theses, served on a number of departmental committees, and is currently Director of the English departmental Honors program.