Congressman Wittman (R-VA) tours William and Mary campus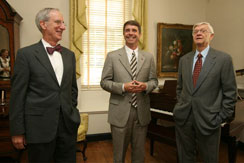 Congressman Rob Wittman (R-VA) met with William and Mary Interim President Taylor W. Reveley III and Provost P. Geoffrey Feiss during the Congressman's tour of the College's campus on July 1, 2008. The visit to the College's Williamsburg campus was Wittman's first since his election to Congress last year.

Wittman, who is concerned about the Chesapeake Bay and the issues surrounding it, also met with John Wells, dean and director of William and Mary's Virginia Institute of Marine Science. While in Williamsburg, the congressman heard presentations on William and Mary's extensive undergraduate research program and the work of the college's Center for Excellence in Aging and Geriatric Health.

Wittman represents Virginia's 1st District. He filled the vacated seat of Congresswoman JoAnn Davis who passed away last fall.