College notes passing of Charles Davidson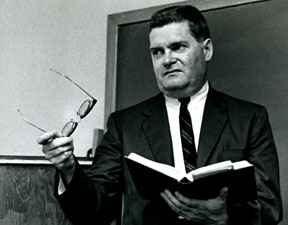 The College of William and Mary sadly notes the passing of Professor Emeritus Charles E. Davidson, who died on Monday, July 28, 2008. 

 Professor Davidson earned his B.A. from Princeton University and his M.A. and Ph.D., from Yale University.  He joined the William and Mary faculty in 1949. During his career at William and Mary Professor Davidson taught a wide range of courses from freshman composition to advanced topics in his field of specialization, Old English language and literature.  He devoted himself particularly to a study of the structure and themes of Beowulf and incorporated his learning into his courses.  In addition, Professor Davidson specialized in Middle English literature, developing successful courses on Chaucer and on Arthurian literature.  His concern for the teaching of composition led him to serve as Director of the Writing Program and Chairman of the Arts and Sciences Writing Committee.   

Over the years, Professor Davidson contributed significantly to the governance of the College by serving on many important committees.  In addition, he was editor of the Undergraduate Catalogue and served as Secretary of the Faculty. With forty years of devoted service to the College, Professor Davidson retired in 1989.

 Professor Davidson is survived by his wife, Eleanor and three daughters.  A memorial service will be held on Saturday, August 2 at 2:30 in the Wren Chapel, followed by light refreshments in the Great Hall.