Closing commencement 2008 remarks by Taylor Reveley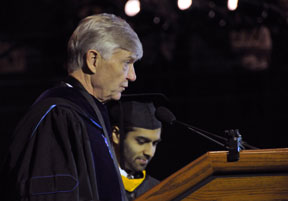 Related content
Get complete audio transcript of Reveley's remarks

Following is the text of the prepared remarks delivered by Interim President Taylor Reveley during the Commencement 2008 ceremony. —Ed.

At William & Mary graduations, the President gets the last word. We have sat long enough. This will be brief.

Thank you, class of 2008, for your commitment to the College. It's not easy for the undergraduate class of 2008 to have had three different presidents – to bounce from Sullivan to Nichol to Reveley. And it's not easy for the law school class of 2008 to have heard suddenly one morning that its dean had just ridden off to work for the university as a whole. Despite rough times, the undergraduate and the law classes of 2008, and all the other classes of 2008 at the university, have pulled together for the good of William & Mary. This has been marvelous to watch. It's also been great for the morale of the interim president.

Being proud of your school matters. I believe you are very proud of William & Mary.

I hope you realize how proud William & Mary is of you. Your academic excellence, athletic prowess, and commitment to serve others, your interest in the world and your understanding that embracing diversity is key to life in the 21st century, all this and more, make you an extraordinary group of people. As you leave William & Mary and move through life, I have steely confidence you will make a serious difference for the better.

When it comes to money, William & Mary is not rich. But it is rich in things money can't buy. Let's remind ourselves about these things. They are cause for great pride. They create a powerful foundation on which we can build.

How is William & Mary rich in ways money can't buy? You know the ways, but it is always fun to revisit them.

The College has powerful roots running deep in American history, a richly storied past, a role in creating the United States. Money can't buy this sort of history.

For generation after generation, William & Mary people have helped push their communities, states and nation forward. Four presidents of the United States studied here – Washington, Jefferson, Monroe, and Tyler, as did the great Chief Justice of the United States, John Marshall. We have had a stunning progression of Chancellors, including Sandra Day O'Connor who graces us now. You can't buy a legacy of this sort. You have to live it.

William & Mary is a place of striking physical beauty, both architectural and natural. Where else among American colleges and universities is there anything as magnificent as our ancient campus, or as elegant as the sunken garden lined by the stately buildings of the old campus?

William & Mary is a school of important academic firsts – Phi Beta Kappa began here, the honor system began here, legal education in America began here. You can't buy this sort of preeminence.

Then there is William & Mary's towering academic reputation – the prestige that comes from generations of transforming teaching, research and learning.

One last reality about William & Mary that money can't buy – the College's capacity to overcome adversity. No other college or university in America – at least none that's still alive and kicking -- has had to overcome more adversity, including being destroyed in two wars. Along the way, William & Mary has learned poise and dignity in the face of difficulty, and it has developed relentless staying power. The College is a phoenix.

What a magnificent constellation of strengths on which to build in the 21st century!

There are, of course, many other things that will make the College live in your memories – perhaps being part of a community where people so clearly care about one another, or having senior professors love teaching and know your name, or walking on ancient bricks paths glorious when dry, wild and crazy when wet, or being swept by the acoustics of the Wren's Great Hall, or experiencing nightlife in Williamsburg, "the city that always sleeps," to quote a student speaker from another commencement. Keep your memories of William & Mary close, so you never truly leave this place.

It's time to end these remarks with a little call and response. Those of you at the King and Queen Ball and at the Law School's 100th Night Party know what to do. For everyone else, here's the drill – we will first cheer William & Mary and then the class of 08. I will propose a cheer to William & Mary, to which all the men in the hall will respond "William" three times, followed by all the women with "Mary three times." Then I will a offer a cheer for the class of 2008, from all our departments and schools, to which everyone will respond "08" three times. Let's practice.