Cannaday presented 2008 JoLynne DeMary Award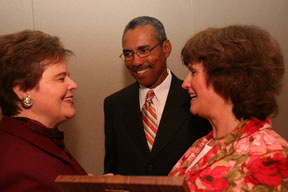 (Williamsburg, Va.) – Dr. Billy K. Cannaday, Jr., superintendent of public instruction for the State of Virginia, was presented the William and Mary School of Education's JoLynne DeMary Award at an Education Policy, Planning and Leadership breakfast today.

The DeMary Award, named for the William and Mary alumna and Cannaday's predecessor as superintendent of public instruction for Virginia, recognizes individuals for leadership in education. Last year, State Sen. Tommy Norment (R-3rd) was presented with the award.

"Not only is Billy Cannaday hugely respected among those of us who are educators, but he also is one of the most powerful ambassadors across constituent groups that I've ever had the pleasure to work with," said Virginia McLaughlin, dean of the school of education. "He is able to transcend the issues in education and help our key constituents understand our needs and challenges in a way that's truly remarkable. I think what makes the difference is that he keeps the focus where it should be – on the students and their achievements. That's the magic of Billy Cannaday."

As the state's superintendent of public instruction, Cannaday serves as the executive officer of the Virginia Department of Education, the administrative agency for the commonwealth's public schools. Cannaday also currently serves as secretary of the Board of Education. Prior to his appointment by Virginia Governor Timothy M. Kaine in 2006, he served as superintendent in two of Virginia's largest school divisions, Chesterfield County Schools and Hampton Public Schools. He was also the principal of Huntington Middle School in Newport News when the school was awarded a Blue Ribbon Award for Excellence in 1984 by the U.S. Department of Education, and he has previously served on William and Mary's Gifted Advisory Board.

Cannaday told those gathered at the breakfast that he works in education because, like them, he was called to it.

"And I greatly appreciate the recognition of people like yourselves," he said.