Two W&M alums appointed to state finance posts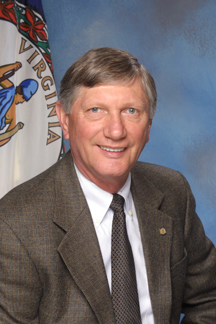 Two William and Mary alums will play prominent roles in the Commonwealth of Virginia's finance and budget process, Gov. Timothy M. Kaine announced earlier this month.

Richard "Ric" Brown ('68), who previously served as director of the Virginia Department of Planning and Budget (DPB), has been appointed Virginia's new Secretary of Finance. Deputy Secretary of Finance Daniel S. Timberlake ('84) will succeed Brown as director of the department of planning and budget.

Brown has more than 35 years of experience working in state finances, including serving in the DPB since 1976 and its director since 2002, succeeds Jody M. Wagner as the state's finance secretary. The new  appointments took effect Aug. 8, 2008.

"I am confident that Ric Brown will continue to serve the Commonwealth with the same enthusiasm and skill that he brought to his time at DPB," Kaine said in a news release. "Dan Timberlake is a fine public servant who is exceptionally qualified to direct the development of the state's budget, and I look forward to continue working with him in this new capacity."

Both individuals bring a wealth of experience to their new positions. According to the news release, Brown entered state government in 1971 as an economist with the Division of State Planning and Community Affairs. He moved to the newly created DPB in 1976. In 1986, he was promoted to budget manager for the agency's Commerce and Resources Section and later headed up DPB's Budget Operations Section. He was appointed deputy director for budgeting in 1990 and acting director of the DPB in 2001. Brown was appointed director in 2002.

Timberlake's experience includes 25 years working in state finances. According to the release, he worked for two years as an analyst with the Virginia Department of Transportation, and 10 years as a budget analyst with the DPB. He was appointed as assistant superintendent for finance at the department of education in 1997. He was named deputy secretary in 2006.