W&M recognizes World AIDS Day
Chris Lettich was the boy his grandfather always wanted, but the two never had a chance to meet. Because of an HIV-positive blood transfusion, Lettich's grandfather died before his grandson was born.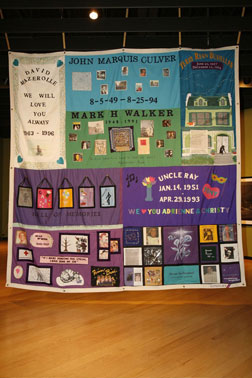 "Otherwise, he was a healthy man," said Lettich, now a freshman at the College of William and Mary. "So had he not gotten that transfusion, had it not been HIV, had we known more, he'd still be here hopefully and I'd have gotten to meet him."
Lettich and his family are among millions of people across the globe whose lives have been touched by the HIV/AIDS epidemic. Starting today, the College of William and Mary's Office of Health Education and Health Outreach Peer Educators (HOPE) will join with groups and individuals around the world in helping raise awareness of the disease by sponsoring events as part of World AIDS Day, set for Dec. 1.
Events in honor of World AIDS Day will kick off today when students will wear red on campus in a show of support for those affected by HIV/AIDS. Also beginning today, the Muscarelle Museum at the College will exhibit two panels from The NAMES Project Foundation's AIDS Memorial Quilt. The panels on display have connections to William and Mary alumnus Terry Ryan Buheller ('79) and five former Williamsburg residents who died of AIDS. The panels will be on display until Dec. 2.
"The AIDS Memorial Quilt is a powerful piece of artwork that helps us connect personally to those affected by HIV/AIDS through names, images, and memories," said Sarah Irwin, a health educator at the Student Health Center's Office of Health Education. "We hope the exhibition will raise awareness about HIV/AIDS and educate our campus about preventing the transmission of HIV and Sexual Transmitted Infections."
During the week of events, the student group Activism in the Fight Against AIDS (AFYA) will be have a table in the University Center to hand out HIV/AIDS information and red ribbons. On Friday, Nov. 30, from 11 a.m. to 1 p.m., free HIV testing will be offered at the Student Health Center to the first 20 students. Students will be served on a first-come, first-serve basis.
Lettich has turned his grandfather's experience into personal motivation to help spread awareness of HIV and AIDS. He was largely involved in his AIDS awareness group in high school, earning him a volunteer service award from the President. At William and Mary, he is involved in HOPE and AFYA.
Lettich said that knowledge about and treatment of the disease has come a long way since his grandfather's diagnosis.
"It is no longer a death sentence," he said.
But, despite all of the strides that have been made in public awareness, there are still misconceptions about HIV and AIDS. Also, some people treat the illness as a joke – sometimes even his friends, said Lettich.
"I sort of just sit there sometimes and keep my mouth shut. But other times I do say something because, even though I'm not affected myself personally from the disease, it still hits me because I never got to meet my grandfather because of it," he said.
Lettich said he hopes the events at William and Mary for World AIDS Day will help continue to increase public awareness.
"I just want people to continue learning," he said.