William and Mary's Schroeder Center to study care for veterans
For the next six months, the Schroeder Center for Healthcare Policy will be focusing their attention on the health services required by Virginia's nearly 3/4 of a million veterans.
The Center, contracted by Virginia's Department of Veterans Services, will study both the current and future care for veterans in Virginia. Virginia's 740,000 veterans population is the 11th largest in the nation. The study, already underway, is expected to be completed in August.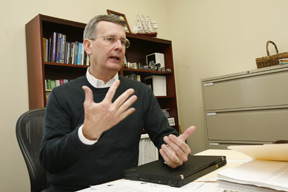 Virginia provides care directly at its Roanoke Virginia Veterans Care Center (VVCC). Much of the care provided is for long-term care including brain injury and Alzheimer's disease patients. U.S. Department of Veterans Affairs (USDVA) spending in Virginia is significant. In Federal Fiscal Year (FFY) 04-05, that spending totaled almost $1.8 billion, 10th in the nation. While the Roanoke's VVCC is the only long-term center in current operation a similar facility is under construction in Richmond and a third facility is under study for the Hampton area.
"Our mission is to serve Virginia's veterans and their beneficiaries by ensuring they receive the benefits, support, quality care, and recognition they have earned through service and sacrifice," said Vincent M. (Vince) Burgess, Virginia's Commissioner of Veterans Services. "This study should help us start a discussion with veteran groups about the future of veterans services in the Commonwealth."
The new study, which was planned before the recent reports of unacceptable care at Walter Reed Army Medical Center, is intended to consider all aspects of veterans care given in state operated facilities in Virginia and how to best configure that care for the future. Louis F. Rossiter, director of the Schroeder Center for Healthcare Policy and Cristine Jensen, visiting research assistant professor there, will lead the study.
"We will be looking at veterans by age group and where they live in Virginia, military bases, and labor market conditions to make recommendations", said Rossiter. "The role of institutional versus home and community-based care is evolving. Automated monitoring devices are opening new opportunities for veterans to allow them to stay at home or in home-like settings," said Rossiter. "Above all, the quality of care for veterans will be a major factor in any recommendations developed."