William and Mary professor's book awarded three book prizes
Legum Professor of History Scott R. Nelson's acclaimed book, Steel Drivin' Man: John Henry, the Untold Story of an American Legend has recently been awarded three significant book prizes, the Organization of American Historians' (OAH) Merle Curti Award for the best book published in American social/cultural history, awarded in March; the National Award for Arts Writing, which will be awarded in May; and the Anisfield-Wolf Book Award which will be awarded in later this year.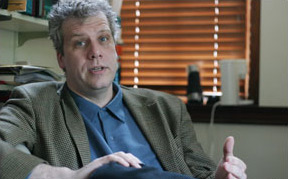 "It's thrilling to get prizes in black literature, in music, and in American history all for the same book," said Nelson. "It feels a little bit like cheating. The people on the prize committees are huge names in their fields; it's truly an honor to be recognized by them."
For decades historians have argued whether the story of the American legend John Henry was based on truth. While collective wisdom of recent times said no, Nelson found evidence in Virginia penitentiary documents that said yes. Tenaciously he connected the dots. His research cumulated in Steel Drivin' Man.
Nelson received the Cuti Award at the OAH's 100th Annual Meeting. In awarding the prize, the OAH said of the book, "Elegant, accessible, and engaging, Steel Drivin' Man reveals the archaeological process of historical research and history writing, compelling readers to understand how all of us come to understand the past." Founded in 1907, OAH is the largest learned society and professional organization dedicated to the teaching and study of the American past.
The national Award for Arts Writing, in its inaugural year, was awarded by the Arts Club of Washington. The $15,000 prize is in recognition of excellence in writing about the arts for a broad audience. Describing Nelson as "a master storyteller," the judges call the book, "engaging and utterly charming."
The Anisfield-Wolf award will be presented at a ceremony in OH and carries a $10,000 prize. The Anisfield-Wolf Book Awards were created in 1935 by Cleveland poet and philanthropist Edith Anisfield Wolf. She designed the Awards for books that expose racism or explore the richness of human diversity. The Awards, endowed through a fund at The Cleveland Foundation, are given each year to books published the previous year.