William and Mary names new Director of University Relations
The College of William and Mary announced today that Mike Connolly has been named Director of University Relations. Connolly is an award winning PR professional who comes to the college with a broad background in both national news and communications. He will oversee the offices of Publications and University Relations.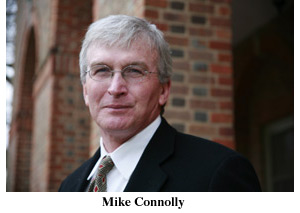 "Mike comes to the college with experience as a seasoned reporter as well as with substantial corporate-marketing experience at both the state and national level," said Stewart Gamage, vice-president for public affairs. "William and Mary has a great story to tell and Mike is the right person to help us tell it."
The Office of University Relations is responsible for promoting university programs and research activities, managing the college's campus-wide response to major university events and for the strategic and integrated communications for the college. Connolly's duties will also include serving as the college's primary media contact.
"It's a pleasure to come to a university where the values of teaching are so highly honored and where the students are active participants in their community and engaged in such a wide array of volunteer services," Connolly said. "I look forward to supporting William and Mary's mission to create an environment that fosters life-changing learning."
Connolly headed his own PR and communications consulting firm before coming to William and Mary. Previously he held senior communications positions at both Kaiser Permanente and Thomas Weisel Partners, LLC and served as Senior Vice President for Edelman Public Relations Worldwide. Earlier in his career he worked on Capitol Hill and was a news reporter, working in Washington, D.C. for USAToday.
He holds a MA in journalism from the University of Missouri and an undergraduate degree in English literature from the University of San Francisco. He and his wife Sue have three children – Catherine, Christopher and Kevin.
Connolly will assume his duties at the university Jan. 10.