U.S. Sen. Chuck Hagel to speak at William and Mary's Charter Day
United States Sen. Chuck Hagel, whose name has been mentioned as a Republican presidential candidate in 2008, will be the keynote speaker at the College of William and Mary's annual Charter Day Ceremony on Feb. 10, 2007. Hagel will be awarded an honorary degree at the ceremony.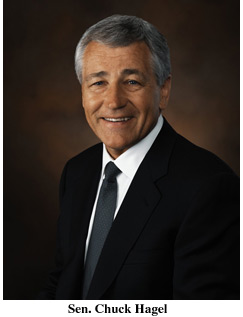 A. Marshall Acuff, Jr., a member of the Class of 1962, former rector of the College and current president of AMA Investment Counsel; and JoAnn Falletta, music director of the Virginia Symphony Orchestra, will also receive honorary degrees at Charter Day. The event marks the 314th anniversary of the awarding of the Royal Charter from King William III and Queen Mary II of Great Britain establishing the college.
"Few have given more of themselves, or served our nation more thoughtfully, than Senator Chuck Hagel. We look forward to hearing from him and to the opportunity to recognize his exemplary career," said President Gene R. Nichol. "We're also beyond fortunate to honor Marshall Acuff, a dear friend and long-time supporter who has devoted decades of service to his alma mater, including leadership as our rector. And JoAnn Falletta has inspired Virginians and others the world over with her music, reminding us why the arts play such an important part in our lives."
Hagel will receive an honorary doctorate of public service at the ceremony, which is scheduled for 10 a.m. on Saturday, Feb. 10, in Phi Beta Kappa Memorial Hall. Acuff will receive an honorary doctorate of humane letters. Falletta will receive an honorary doctorate of arts.
Tickets are required for the Charter Day ceremony. After tickets have been distributed to faculty, students and staff, a limited number will be available to the general public after Feb. 1, 2007. Those seeking tickets should call 221-1001.
Hagel, Nebraska's senior U.S. senator, has a long career of service. In 1968, Hagel served in Vietnam with the U.S. Army's 9th Infantry Division, earning various military decorations including two Purple Hearts. A graduate of the Brown Institute for Radio and Television in Minneapolis, Minn., and the University of Nebraska at Omaha, Hagel worked beginning in 1969 as a radio newscaster and talk show host with radio stations in Omaha, Neb. From 1971 to 1977, he worked as administrative assistant to Congressman John Y. McCollister.
Prior to his election to the U.S. Senate, Hagel worked in the private sector as president of the investment banking firm McCarthy & Co. and chairman of the board of American Information Systems, Inc. Before joining McCarthy & Co., Hagel was President and Chief Executive Officer of the Private Sector Council (PSC) in Washington, D.C., Deputy Director and Chief Operating Officer of the 1990 Economic Summit of Industrialized Nations (G-7 Summit) and President and Chief Executive Officer of the World USO.
First elected to the U.S. Senate in 1996, he was re-elected to the Senate in 2002, where he serves as a member of four committees: Foreign Relations; Banking, Housing and Urban Affairs; Intelligence; and Rules. The Republican senator has been one the country's most outspoken and influential voices on international affairs and United States global policy.
Hagel has received numerous awards, including the Omaha World-Herald's 2005 "Midlander of the Year" Award; the University of Nebraska at Omaha's 2006 Alumni Award for Excellence in Public Service; the National Parent Teacher Association's Outstanding Child Advocacy Award; the Vietnam Veterans of America Legislator of the Year Award; and the Secretary of Defense's Medal for Outstanding Civic Achievement.
Hagel has served on the Board of Trustees of the Manville Personal Injury Settlement Trust and as Chairman of the $240 million Agent Orange Settlement Fund. His participation in civic, educational, and charitable organizations has included: Board of Directors, Greater Omaha Chamber of Commerce; chairman of the10th Anniversary Vietnam Veterans' Memorial; Board of Directors and National Advisory Committee of the Friends of the Vietnam Veterans Memorial; Board of Directors of the Arlington National Cemetery Historical Society; chairman of the Board of No Greater Love, Inc.; USO's World Board of Governors; and the World USO Chairman's Advisory Council. He is a life member of the American Legion, Veterans of Foreign Wars, Vietnam Veterans of America, Disabled American Veterans, and the Military Order of the Purple Heart.
After graduating from William and Mary with an undergraduate degree in economics in 1962, Marshall Acuff went on to earn an M.B.A. in finance from the University of Michigan Graduate School of Business Administration in 1966. He has also participated in advanced investment management and research seminars at Harvard and Princeton.
Acuff retired in 2001 as senior vice president and managing director of Smith Barney, a division of Citigroup, Inc. During his tenure at Smith Barney, he created the role of portfolio strategist on Wall Street and worked in that capacity for over 30 years. Acuff is currently president of AMA Investment Counsel, LLC; senior advisor to the London Corporation; and is a Chartered Financial Analyst. Acuff is also Senior Advisor and Investment Committee Chairman for Partners at Cary Street Partners, an integrated investment banking and wealth management firm with offices in Richmond, Atlanta, Ga., and High Point, N.C.
In addition to his successful business career, Acuff has been appointed by four separate governors of Virginia to state-wide roles in public service.
Acuff also has a long history of supporting William and Mary. From 1989 to 1991, he served as president of the William and Mary Alumni Association. He was appointed to the Board of Visitors in 1991, where he served as rector of the college for three years and vice rector for two years. An emeritus member of the Board of Directors of the Endowment Association, on which he served two terms, Acuff is also an emeritus director of the School of Business Administration Sponsors, has served on search committees for the president of the college and the dean and director of the Virginia Institute of Marine Science, and has been an adjunct professor of business administration at the college. He established a professorship in marine science, funded an endowment to support oyster disease research at VIMS, and established the Acuff Scholar-Athlete in the golf program. Currently a member of the William and Mary School of Business Foundation Board and treasurer of the VIMS Foundation Board, Acuff is also a member of the Campaign for William and Mary Steering Committee, the President's Council, the Fourth Century Club, the Sir Robert Boyle Legacy Society and the VIMS Founders Society. He is a founding member of the Chancellor's Circle and an honorary member of the Young Guarde Council. Acuff was named a Distinguished Military Graduate in 1988, received the Alumni Medallion in 1993 and has been inducted into Omicron Delta Kappa.
A 13-time member of Institutional Investor Magazine's All-American Team, Acuff has published articles in Barron's, Forbes, Japan's economic journal Nikkei and Germany's financial weekly Handalsblatt. He and his wife have two children, Jonathan, who graduated from William and Mary in 1993, and Amanda.
JoAnn Falletta has been called "one of the finest conductors of her generation" by The New York Times. A graduate of the Mannes School of Music and The Julliard School, she serves as artistic advisor to the Honolulu Symphony and as the music director of the Buffalo Philharmonic Orchestra in addition to her post at the Virginia Symphony. Her discography includes nearly 40 titles, and she has guest conducted more than 100 orchestras in North America and more throughout the world.
She has appeared on various radio and television shows, including NPR's "Performance Today" and "Fresh Air," "CBS Sunday Morning," the "Charlie Rose Show," the "MacNeil Lehrer News Hour," and various specials on PBS. She has also contributed articles to Symphony Magazine, the New York Concert Review, the Virginian Pilot, Portfolio Magazine and Traffic East Magazine. In 2004, she published a book of poetry, Love Letters to Music.
A native of Queens, New York, Falletta has won prestigious awards for her conducting, including the Seaver/National Endowment for the Arts Conductors Award for exceptionally gifted American conductors. In 2006, Falletta received a Grammy nomination along with English horn soloist Thomas Stacy and the London Symphony Orchestra for "Eventide" by Kenneth Fuchs. Her dedication to her orchestras also earned her recognition as Buffalo's Most Influential Community Leader and Buffalo and Erie County's Artist of the Year.