U.S. News: College remains nation's best small public university
For the ninth straight year, the College of William and Mary remains sixth among the nation's public universities—and it is the best small public university, according to the 2007 annual undergraduate rankings of colleges and universities by U.S. News & World Report.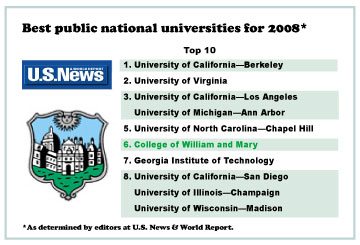 According to the latest edition of the magazine, which hits newsstands Monday, William and Mary ranks sixth among public universities and colleges. With a total enrollment of 7,700 students—including 5,700 undergraduates—William and Mary is by far the smallest university among the top publics.

"We're pleased that U.S. News continues to recognize William and Mary as one of the nation's very best universities," said William and Mary president Gene R. Nichol. "While rankings can never capture the enthusiasm and talent of our students, faculty, and staff, or the dedication and pride of our alumni, they remind us all that this great College is a national treasure. They remind, too, that we must always strive for excellence, opportunity, and greater financial support for our College."

The College ranked 33rd among all public and private universities. Last year, William and Mary was tied for 31st with Brandeis University. The highest ranked public school among all universities is the University of California-Berkeley at 21st nationally and first among publics. The University of Virginia ranked 23rd nationally and second among publics. Among other state institutions, Virginia Tech is 29th among public universities and 71st among all universities in the country.

William and Mary repeatedly ranks among the nation's best universities despite consistently ranking poorly in terms of financial resources. According to the annual survey by U.S. News, William and Mary ranks 106th in financial resources—the lowest ranking among the magazine's top 50 national universities. For example, Brandeis and Lehigh universities (tied for 31st nationally) rank 47th in financial resources. Wake Forest, ranked 30th, is ranked sixth in finances.

"It's no secret that William and Mary, as a small public university, faces financial challenges that don't impact many private and large public universities," said William and Mary Provost Geoffrey Feiss. "Given that history, it's very satisfying to see William and Mary once again is among the top institutions in the country—it means our small, liberal arts university in Williamsburg remains among the nation's best public research universities. But whether we go up or down a spot or two is not an indicator of academic excellence for any given year."

U.S. News annually compiles data that ranks colleges and universities, both public and private institutions, in several categories based on criteria such as graduation rates, class sizes, academic reputation, peer assessments, freshmen retention rates, alumni contributions and faculty resources. In addition to the magazine, some of the results are also available at www.USNews.com.

Princeton University is ranked No. 1 among all universities and is followed by Harvard, Yale, Stanford and the California Institute of Technology. UC-Berkeley is the top-rated public university and is followed by UVA, University of California-Los Angeles and University of Michigan-Ann Arbor (tied for third), University of North Carolina-Chapel Hill and William and Mary.

The College of William and Mary is the second-oldest institution of higher learning in the United States. Established in 1693 by British royal charter, William and Mary is proud of its role as the alma mater of generations of American patriots, leaders and public servants.
Now in its fourth century, it continues this tradition of excellence by combining the best features of an undergraduate college with the opportunities offered by a modern research university.