Students receive grants for environmental research
Two graduate students in William and Mary's biology program received external grants totaling $42,900 to continue their work on environmentally sensitive projects.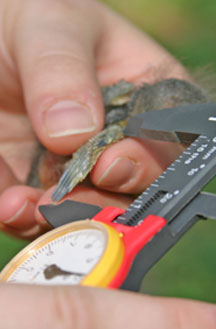 Ryan Burdge was awarded $27,500 by the National Fish and Wildlife Foundation for his project on the effects of golf course pesticides on bluebirds, while Jonathan Holley received $15,400 from the Virginia Environmental Endowment to study the effectiveness of current storm water management practices. Both Burdge and Holley are in the Master of Science program and expect to receive their degrees in 2008.
Burdge will continue research by his advisor, Dan Cristol, and by John Swaddle, both associate professors of biology at William and Mary. Their work has shown that eastern bluebird nestlings have poorer body conditions on golf courses than found among comparable chicks in pesticide-free locations. Burdge's contribution will be to examine blood levels of organophosphate pesticides in bluebirds on heavily treated golf courses, comparing them with birds from sites with no pesticide management.
Holley's advisor is Randy Chambers, director of the William and Mary's Keck Environmental Laboratory. Water retention ponds are a standard feature in runoff management across the Commonwealth, and Holly's work will add to the knowledge of the ponds' effectiveness in filtering heavily polluted runoff. Holley also will examine the outflow of retention ponds and will examine its effects on aquatic invertebrate communities in managed streams.
"Students in our M.S. program provide an invaluable boost to the productivity of the faculty," said George W. Gilchrist, director of graduate studies for the biology department. "Many masters' students work as research assistants to professors, mentor undergraduate research and aid as teaching assistants. Their independent work, however, regularly contributes quality research on a variety of projects ranging from cells to ecosystems."