Kaplans to officiate William and Mary's Homecoming Parade
The trek down Duke of Gloucester Street at Homecoming will be a short one for Jane Thompson Kaplan '56 and Jim Kaplan '57. As grand marshals of the 78th edition of William and Mary's annual Homecoming Parade, these longtime friends and benefactors of the College will be the center of attention at a place which they have supported so much.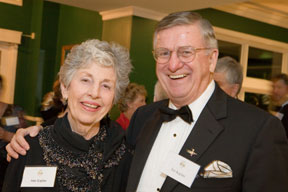 "We were delighted," says Jane when they found that they had been chosen to serve as the grand marshals. "I can remember riding on the sorority float [as a student] and it's still a fun thing to watch."
"I've been on the Alumni Association Board of Directors and the whole board discusses who is going to be the next grand marshal," says Jim. "It can be a very involved debate. For us to be chosen is quite an honor."
The Kaplans' story is one of triumph and togetherness. Jane, from Illinois, and Jim from Pennsylvania, were set up on a date, which was, as she remembers "blind, but we knew who each other was." From there, the two were inseparable — and this year marked their 50th wedding anniversary.
"I met Jane here at William and Mary, and those were probably the most wonderful years of our lives," remembers Jim, who was a three-year starter on the basketball team.
Jim joined William and Mary's ROTC program, which sent him to Fort Bliss, Texas for missile training school upon graduation. He and Jane were married the week after he arrived.
While he was in Texas, Jim received training in electronics, something that would serve him well as he entered the world of free enterprise. Jim took a job with Cornell Dubilier Electronics as a field engineer, and ultimately climbed all the way to the company's presidency. In 1983, he led a buyout of the world's oldest electronic capacitor firm with a few others, and eventually purchased the rest of the corporation, becoming its sole owner, CEO and president, where he still presides today.
Since 2001, they have served as co-chairs of the Athletic Campaign Committee, and Jim has served the College in many other capacities, including as a member of the Alumni Board, as an executive partner with the business school, and he served the Campaign for William and Mary's steering committee. Jane has rolled up her sleeves for her College as well, serving as a co-chair of the Lord Botetourt Auction in 2003 and 2004, which is an event that raises funds for the Tribe Club. In addition, the Kaplans were heavily involved with their 50th reunion gift committees, Jim as the co-chair for his Class of 1957; Jane as co-chair for her Class of 1956.
But perhaps the most recognizable gift of the Kaplans to the College is the basketball gymnasium at William and Mary Hall. Since 2005, all basketball, gymnastics and volleyball events have been played at Kaplan Arena. Jim, a member of the William and Mary Athletic Hall of Fame and Alumni Medallion recipient, helped lay the type hardwood that he always wanted to play on with his basketball bretheren.
"We met so many great, wonderful people while we were here and were very fortunate to continue those relationships after graduation," says Jim. "It's just a great feeling."
To return to one's alma mater and contribute in such a way is the dream of many college graduates. But for the Kaplans, that is something they have done and continue to do.
"It's all about giving back," says Jane.
Jim has maintained that philosophy of generosity throughout his life, one that helped him succeed on the basketball court and later in the business world.
"Work hard, work smart and the big thing is to treat people the way you wish to be treated," said Jim. "That's what life is really about — teamwork. Whether it's a family or a company or a university. The ones that work hard together and treat people right are the ones who get ahead."
The William and Mary Homecoming Parade will take place on Sat., Oct. 27 starting at 9:30 a.m. The route of this year's parade will start at Duke of Gloucester Street, then down Richmond Road past the Alumni House to Brooks Street and ending at William and Mary Hall.
Founded in 1842, the William and Mary Alumni Association is a separately incorporated nonprofit organization that encourages alumni of the College of William and Mary to remain active partners in the life of the university. The Alumni Association's programs nurture friendships, inspire pride and build an appreciation among alumni for William and Mary's long tradition of achievement. For more information about the Alumni Association, visit www.wmalumni.com.