Her Majesty, Queen Elizabeth II returns to William & Mary May 4, 2007
The following itinerary was released today by Buckingham Palace regarding the state visit next week of Her Majesty, Queen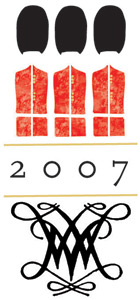 Elizabeth II. In addition to marking the 400th anniversary of the founding of Jamestown, the Queen will visit the campus at the College of William and Mary on May 4, 2007. The visit comes 50 years after Her Majesty's first visit to the College in 1957.
"We're extremely honored to welcome back to our campus Her Majesty, Queen Elizabeth II—50 years following her first historic visit to the College of William and Mary. It will be a great moment in the life of the College—and an unparalleled thrill for our students, faculty, staff and alumni—to host the Queen once again and further strengthen the bonds between the nation's second oldest college and our historic roots with the United Kingdom," said William and Mary President Gene R. Nichol.
Nichol also sent the following message to students regarding the Queen's visit:
It's been said—perhaps you've heard—that Her Majesty Queen Elizabeth II will visit the Commonwealth late next week. What hasn't been shared, until Buckingham Palace gave us permission this morning, is that Her Majesty will spend some time with us at the College on Friday, May 4. We look forward to welcoming Her Majesty back to William & Mary. It is the highest of honors. Reaffirming a unique kinship—tracing the steps of a still-talked-about visit of 50 years ago—again sharing the heart of this singular community with The Queen. I look forward to it immensely.
We are bound, for a while longer, not to share too much of The Queen's itinerary. But I would say that we have talked often with palace staff about the senior class, our traditions, the Wren Building, and its historic bell.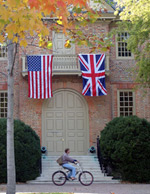 It's possible that some of you have looked forward to May 4, long scheduled as the last day of classes, for somewhat different reasons. But to arrange for a William and Mary welcome worthy of The Queen, Provost Feiss and I have agreed to cancel classes on May 4, making the last day of classes Thursday, May 3. This will pose challenges. And the announcement, I'll concede, comes closer to the events than is ideal. But these limitations inhere in a royal visit. And they will also, we hope, help sustain a unique opportunity for all. Including, I'd note, the College's staff, for whom appropriate leave will be offered to participate.
We'll have more to say in the coming days, through e-mail and through the web site http://www.wm.edu/hermajesty/, about how you can help welcome The Queen.
Go Tribe. Hark upon the Gale.
Gene Nichol