College's Supreme Court Preview on C-Span
The Law School's Supreme Court Preview panel will be featured Oct. 6 at 7 p.m. on C-Span's American and the Courts. Check local cable programming for channels.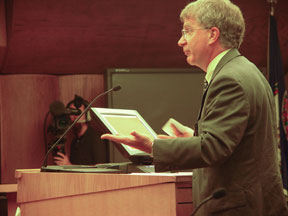 Each fall for the last 20 years participants have gathered at the William and Mary Law School for its annual Supreme Court Preview. Legal experts, scholars and journalists who cover the Court come to examine its upcoming session and dissect its rulings from the previous term.

This year, participants came to the mid-September event sponsored by the College's Institute of Bill of Rights Law to talk about the court led by Supreme Court Justice John Roberts.

"The 2007 - 2008 was the best Preview ever. Nearly all panelists had argued cases before the Supreme Court and their real world experience translated into amazing insights about the workings of the Court," said Neal Devins, director of the Institute of Bill of Rights Law and Goodrich Professor of Law at the William and Mary Law School.

During the two-day preview journalists and scholars closely examined issues surrounding the constitutionality of the Military Commissions Act and how the Act affects the ability of Guantanamo detainees to seek habeas relief from federal courts. This Moot Court case was argued by Pam Karlan of the Stanford Law School and University of Utah S.J. Quinney School of Law professor and federal appeals court judge Michael McConnell.

"The Moot Court session was particularly interesting this year. Both in terms of the case that was argued, and the discussion on that case, as well as having Judge Michael McConnell acting as one of the advocates in the case said Christine Nemachek, author of Strategic Selection: Presidential Nomination of Supreme Court Justices from Herbert Hoover Through George W. Bush and associate professor of government at William and Mary."

Preview panels also addressed the Supreme Court's role in policing presidential war making, issues pertaining to business law, criminal procedure, election law, individual rights, and judicial modesty.

Several William and Mary Law School faculty members participated in the discussions including, Nancy Combs and William Van Alstyne. Former Bush Justice Department official John Yoo (author of the so-called terror memo); former Clinton Justice Department official Walter Dellinger; Donald Virelli of Jenner & Block; Erwin Chemerinsky from Duke Law School and journalists Joan Biskupic from USA Today, Stuart Taylor from National Journal and Linda Greenhouse from the New York Times also participated in the panel discussions.

As in years past, C-Span taped the event for broadcast on its American and the Courts series. The first panel will be aired Saturday, Oct. 6 at 7 p.m. on the C-Span network.