Campaign for William and Mary set to close with $508 million raised
The College of William and Mary has announced that it has surpassed the goal of its seven-year Campaign for William and Mary, with $508 million raised before the initiative's official close on June 30.
"With more than $100 million raised in the last two years alone, the William and Mary family owes a great debt of thanks to the 59,916 alumni, parents, friends, foundations and corporations that have given to the Campaign for William and Mary over the last seven years," said Campaign Chair James B. Murray Jr. J.D. '74, LL.D. '00. "The Campaign's legacy will be seen in the long-term impact of these generous contributions — an impact that will make for a thriving College years from now."

The College recently received two major commitments totaling $2 million that helped propel it past its half-billion-dollar Campaign goal. Marilyn Brown and Doug Morton of Englewood, Colo., have pledged $1 million to the College's new Faculty-Student Research Initiative. Carter and Dane Brooksher of Elsberry, Mo., have made a similar commitment in support of the K. Dane Brooksher Professorship at the Mason School of Business, which they established in 2005.
Both members of William and Mary's Class of 1961, Carter and K. Dane Brooksher are longtime William and Mary supporters. Dane Brooksher is the founder and former chairman and CEO of ProLogis, the world's largest global provider of distribution services and facilities. He also was with KPMG for more than 32 years, serving in various capacities, including Midwest Area and Chicago office managing partner and as a member of the board of directors.

"I am just trying to repay all the College has done for me and my family," Brooksher told guests at a luncheon honoring him last fall. One of the Brookshers' three children, Gregory, is a member of the Class of 1988.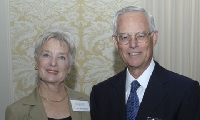 Founder and owner of Morton Publishing Co., Doug Morton is a 1962 graduate of the College. His wife, Marilyn Brown, was recently named an honorary alumna by the William and Mary Alumni Association, and their daughter, Christine Morton DeMier, graduated from William and Mary in 1990. Morton and Brown have served on numerous College boards and given to programs across campus, including Arts and Sciences, Athletics, the Fund for William and Mary, the Muscarelle Museum of Art and Swem Library. This most recent commitment provides funds for research in the sciences, as well as support for related library acquisitions.
"When the president spoke about how essential faculty-student research was to the College, we knew it was an important initiative to support," said Morton. "It's something we feel strongly about, and we hope our commitment will inspire others. We also know — given our involvement with the College — that the faculty and students support Gene Nichol's vision for William and Mary."
Said President Gene R. Nichol, "I'm heartened that the Brookshers and the Mortons, and so many others like them, have decided to invest in these two vital priorities — faculty and student research, and faculty support. Teaching, in all its forms, is William and Mary's lodestar. These commitments will fund the intense, engaged experience of learning and exploration that is central to our mission."

The Campaign for William and Mary is supporting virtually all areas of College life, from scholarships to professorships to research to the construction of new facilities. Outright gifts are making an immediate difference across campus, while pledges and deferred commitments will contribute to William and Mary's long-term success. The College reports its total endowment figure annually, and as of June 30, 2006, it stood at $491.6 million — a growth of 28 percent during the course of the Campaign. To date, donors have established 327 new endowments during the initiative.

"The past seven months of the Campaign have been challenging," said Murray. "But our alumni, parents and friends have demonstrated, once again, that William and Mary is deserving of our support. Surpassing the half-billion-dollar goal speaks to the fortitude of the William and Mary family, which has continued — above all — to be devoted to the College's students and faculty.

"And, with a little more than two weeks to go, I must remind everyone that there's still time to participate in this historic Campaign," Murray added. "We will not officially close our books until June 30."

This year alone saw two significant, record-setting gifts from alumni and students who span the generations: The Class of 1957's 50th reunion class gift totaled $12 million, while the Class of 2007 committed more than $129,000.

Although William and Mary will celebrate the success of this landmark Campaign, President Nichol doesn't anticipate a lull in fundraising. "Our goals are too ambitious, and our students and faculty too talented, for us not to continue planning for — and aggressively seeking — their support," Nichol said. "The success of the Campaign for William and Mary shows that our alumni and friends are invested — generously and deeply — in the monumental, life-changing work of the College."